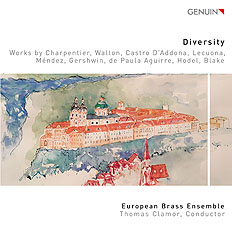 GEN 18608
EAN: 4260036256086
6.7.2018

| | |
| --- | --- |
| Marc-Antoine Charpentier (1643–1704) | |
| Te Deum, Prélude | |
| William Walton (1902–1983) | |
| Crown Imperial | |
| Giancarlo Castro D'Addona (*1980) | |
| Walking Faster, Op. 19 | |
| Ernesto Lecuona (1895–1963) | |
| Malagueña | |
| Rafael Méndez (1906–1981) | |
| The Three Méndez (Tre–Méndez Polka) | |
| George Gershwin (1898–1937) | |
| I Got Rhythm | |
| Francisco de Paula Aguirre (1875–1939) | |
| Amalia | |
| Stephan Hodel (*1973) | |
| A Lenda do Curupira - The Legend of Curupira | |
| Richard Blake (*1990) | |
| Fantasy on Edelweiss | |
| Richard Blake (*1990) | |
| Bleeding Chunks | |
| | |
Works by Charpentier, Walton, Castro D'Addona, Lecuona, Méndez, Gershwin, de Paula Aguirre, Hodel and Blake
European Brass Ensemble
Thomas Clamor, Conductor


In stock, shipping in 1-2 days.

We offer free shipping!

Please read our General Terms and Conditions and Privacy Statement carefully.








Once again, the European Brass Ensemble brings together the best young brass players of the continent and celebrates music and its diversity. Following their grand debut, their second production under the direction of Thomas Clamor is a genuinely regal compilation of inspiring works featuring music from this side and the other side of the Atlantic. The sounds from the baroque to the present swing and groove in a way that makes it a pure joy to hear. Among the showpieces include Richard Blake's "Fantasy on Edelweiss" recorded here for the first time and his rich arrangement of the famous "Te Deum" by Charpentier. Don't miss it–this is pure luster!