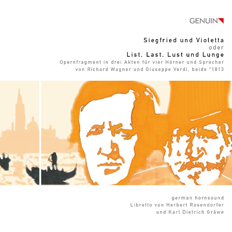 2 CDs GEN 13264
EAN: 4260036252644
2.5.2013

| | |
| --- | --- |
| CD 1 | |
| Vorspiel | |
| CD 1 | |
| 1. Akt. Venedig 1858 | |
| Caffè Florian "La Sala Orientale" | |
| CD 1 | |
| Intermezzo | |
| CD 1 | |
| 2. Akt. Venedig 1880 | |
| Caffè Florian "La Sala Cinese" | |
| CD 2 | |
| Intermezzo | |
| CD 2 | |
| 3. Akt. Venedig 1883 | |
| Caffè Florian "La Sala delle Stagioni" | |
| CD 2 | |
| Nachspiel | |
| CD 2 | |
| Bonus | |
| | |
Siegfried und Violetta or List, Last, Lust und Lunge
Opera fragment in three acts for four cornets and speaker by Richard Wagner and Giuseppe Verdi, both *1813
Libretto by Herbert Rosendorfer and Karl Dietrich Gräwe
german hornsound, Horn Quartet
Christoph Eß, Horn


In stock, shipping in 1-2 days.

We offer free shipping!

Please read our General Terms and Conditions and Privacy Statement carefully.


Finally: one of the most grandiose examples of teamwork in operatic history is finally conquering the CD player, the living room and the armchair, thanks to GENUIN – and soon the stages of the world as well? Verdi and Wagner whispering in a café over hot chocolate and tiramisú whilst concocting audacious feats: La Traviata meets Tannhäuser, Lohengrin's swan makes the acquaintance of the power of fate. This final work of the wonderful Herbert Rosendörfer brings these two great composers together in a fictitiously meditative dialogue, the virtuoso hornist Christoph Eß (Bamberg Symphony Orchestra) and his german hornsound contribute the entertaining, "shaken not stirred" musical cocktail. We just say: Sempre libera – hoyotoho!