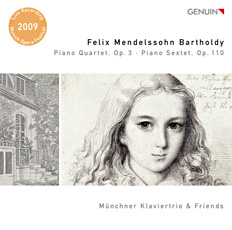 | | |
| --- | --- |
| Felix Mendelssohn Bartholdy (1809-1847) | |
| Quartet for Piano, Violin, Viola and Violoncello no. 3 | |
| Allegro molto | |
| Andante | |
| Allegro molto | |
| Allegro vivace | |
| Felix Mendelssohn Bartholdy (1809-1847) | |
| Sextett for Violin, two Violas, Violoncello, Double Bass and Piano in D Major, Op. 110 | |
| Allegro vivace | |
| Adagio | |
| Minuetto. Agitato | |
| Allegro vivace | |
| | |
Felix Mendelssohn Bartholdy
Piano Quartet op. 3 . Piano Sextet op. 110
Münchner Klaviertrio
Tilo Widenmeyer, viola
Ruth Elena Schindel, Viola
Alexander Rilling, double bass


In stock, shipping on January 8th.

We offer free shipping worldwide!
Please read our General Terms and Conditions and Privacy Statement carefully.


The highly regarded Munich Piano Trio is now releasing its fourth CD on the Genuin classics label. As demonstrated in previous releases, the repertoire has always held a few surprises in store for listeners. Along with highly praised recordings of important Romantic trios, there has even been an excursion into the glowing world of tango music. This new CD presents an early piano quartet and piano sextet by the exceptionally gifted Felix Mendelssohn. The high quality of the recording, the technical brilliance and soulful performance by the "Piano Trio & Friends" once again inspires awe at the dizzying prowess of the young composer. Not be missed in any collection of Romantic repertoire!

"La brillantezza, il virtuosismo vengono temperati da un approccio più riflessivo e concentrato che se toglio un po di freschezza a queste pagine comunque interessanti." Read the italian review in the magazine Musica, issue February 2011.