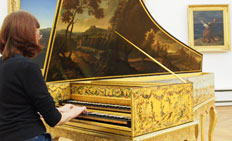 GENUIN produces the new CD "En Sol" with the harpsichordist Rebecca Maurer
14.10.2014: This weekend, GENUIN produced the new CD featuring the harpsichordist Rebecca Maurer playing on a historically valuable instrument: the Ruckers harpsichord of Neuchâtel from the year 1632. Here you can see snapshots of the recording at the Swiss Musée d'Art et d'Histoire in Neuchâtel where the harpsichord, made by Ioannes Ruckers the younger, can be seen. The Ruckers harpsichord is known for its exceptionally warm sound, for which it has always been characterized.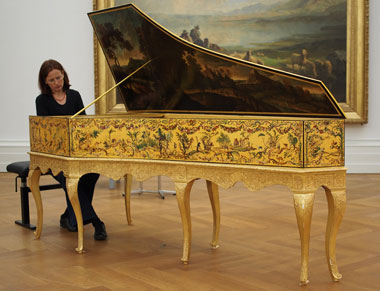 Rebecca Maurer used the harpsichord to play works of the French composer Jean-Henri D'Anglebert, Jean-Baptiste Lully, Franςois Couperin, Louis Couperin, Gaspard Le Roux, and Joseph-Nicolas-Pancrace Royer. The CD "En Sol" will be released by GENUIN in September 2015, and two more productions featuring Rebecca Maurer on the fortepiano and on the harpsichord are being planned.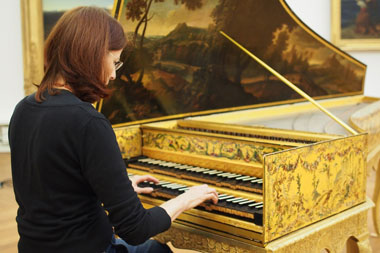 "A remarkable number of compositions that were created at the court of the Sun King, the "Roi Soleil", are in the key of G minor "en sol mineur". A coincidence? Certainly not, if one just considers the many connotations of the word "sol": "sol" as the Latin root of the word Soleil (Sun), " writes Rebecca Maurer in the program notes of her CD.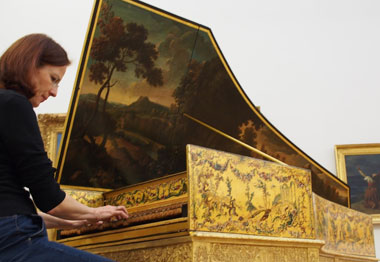 Born in Nuremberg, Rebecca Maurer studied as a youth in the piano class of Erich Appel at the Meistersinger Conservatory in Nuremberg, and, after receiving her certificate, went on to study at the University of Music in Freiburg im Breisgau. After receiving diplomas in piano and harpsichord she continued her studies in the harpsichord class of Bob van Asperen at the Sweelinck Conservatorium in Amsterdam. Afterwards, she spent two years in the United States, where she worked as a teaching assistant to Malcom Bilson (fortepiano) for the musicologically oriented course "Performance Practice of 18th Century Music". Between 2001 and 2003 she was a visiting professor for harpsichord at the State University of Music and Performing Arts in Stuttgart. Rebecca Maurer works as a freelance writer specializing in musicology.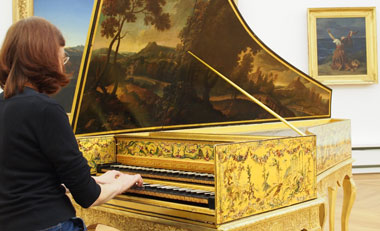 Learn more about the Ruckers harpsichord


Homepage Rebecca Maurer