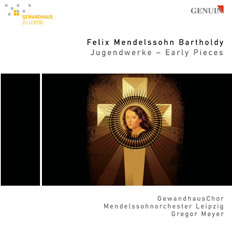 GEN 88118
EAN: 4260036251180
22.2.2008

| | |
| --- | --- |
| Felix Mendelssohn Bartholdy (1809–1847) | |
| Wer nur den lieben Gott lässt walten (1828/29) | |
| Felix Mendelssohn Bartholdy | |
| Kyrie c-Moll (1823) | |
| Felix Mendelssohn Bartholdy | |
| Sinfonia III e-Moll (1821) | |
| Felix Mendelssohn Bartholdy | |
| Mitten wir im Leben sind (1830) | |
| Felix Mendelssohn Bartholdy | |
| Magnificat (1822) | |
| | |
Felix Mendelssohn Bartholdy
Early Works


GewandhausChor
Gregor Meyer, Conductor
Mendelssohnorchester Leipzig


In stock, shipping in 1-2 days.

We offer free shipping!

Please read our General Terms and Conditions and Privacy Statement carefully.


When one puts a CD into the player, one does not generally think about how old the composer was whose music sounds forth from the loudspeakers. After all, Richard Strauss committed his highly romantic and sensitive "Four Last Lieder" to paper at the venerable age of 84. But one is indeed astonished to realise that Felix Mendelssohn Bartholdy was barely thirteen when he wrote an extended Magnificat and set the litany of "Kyrie eleison – Lord have Mercy!" Of course, these youthful works of Mendelssohn - recorded by the Leipzig GewandhausChor on the new GENUIN CD with a wonderfully lean sound and exemplary diction - are still clearly marked by models of the past. But the opening movement of the Magnificat is just as festive and joyous as that of a work by Joseph Haydn, the "Kyrie" is imploring and timelessly touching and the String Symphony in E minor, played furioso by members of the Gewandhausorchester who are also heard supporting their choir on this CD, is pointed and full of edginess. Whoever wishes to become acquainted with a prodigy composer has the perfect opportunity of doing so with this CD – or whoever simply wishes to hear good, moving music.

Fono Forum
"It all sounds fresh and lively, and is also a discovery as far as repertoire is concerned." (Fono Forum 10/2008)

Classique-Info Disque
"Mendelssohn, le génie heureux!"
Read the whole review on the French classical music forum Classique-Info Disque, 3. November 2009!