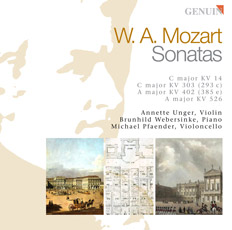 GEN 87524
EAN: 4260036255249
23.11.2007

| | |
| --- | --- |
| W. A. Mozart | |
| Sonata C minor KV 14 | |
| Allegro | |
| Allegro II | |
| Menuetto I – Menuetto II en Carillon | |
| W. A. Mozart | |
| Sonata C minor KV 303 | |
| Adagio – Allegro molto | |
| Tempo di Menuetto | |
| W. A. Mozart | |
| Sonata A minor KV 402 | |
| Andante, ma un poco Adagio | |
| Fuga. Allegro moderato | |
| W. A. Mozart | |
| Sonata A minor KV 526 | |
| Molto Allegro | |
| Andante | |
| Presto | |
| | |
Wolfgang A. Mozart: Sonatas
Sonata C major KV 14, Sonata C major KV 303, Sonata A major KV 402, Sonata A major KV 526
Annette Unger, Violin
Brunhild Webersinke, Piano
Michael Pfaender, Violoncello


In stock, shipping in 1-2 days.

We offer free shipping!

Please read our General Terms and Conditions and Privacy Statement carefully.


C & A, but also E-flat & A-flat had absolutely concrete, lively significance for both the "old Bach" and the wunderkind Wolfgang Amadeus Mozart. A specific character was attributed to each key, along with a clearly defined effect. The three artists on the present GENUIN-CD bring off these effects in masterly fashion on the musical stage: C major is presented directly and clearly, A major enthusiastically and sensually. Annette Unger (violin) and Brunhild Webersinke (piano), supported by Michael Pfaender (violoncello), bring Mozart's violin sonatas from various creative periods to life with ardour and perfection. The arch extends from the schoolboy's first compositional attempts to the masterpiece of his final year. And even here, forty years after the death of Johann Sebastian Bach the not merely "baroque" sound character is ever-present and the listener is moved by the lively musical personalities so clearly expressed in tones.