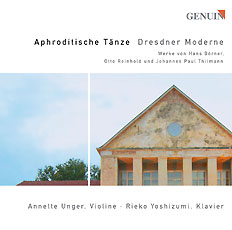 GEN 87107
EAN: 4260036251074
23.11.2007

| | |
| --- | --- |
| O. Reinhold (1899–1965) | |
| Sonate für Violine und Klavier | |
| J. P. Thilmann (1906–1973) | |
| Sonatine op. 82 | |
| J. P. Thilmann | |
| Sonatine op. 50 | |
| J. P. Thilmann | |
| Acht Duos | |
| H. Börner (1927–2006) | |
| Kleines Ballett op. 24 | |
| H. Börner | |
| Aphroditische Tänze op. 38 | |
| | |
Dresdner Moderne

Annette Unger, Violin
Rieko Yoshizumi, Piano


In stock, shipping in 1-2 days.

We offer free shipping!

Please read our General Terms and Conditions and Privacy Statement carefully.


What is autonomous art? Where does ideology begin? What does one hear when the wonderfully free tone of Annette Unger's violin opens this GENUIN-CD with duo compositions from Dresden? The violinist and her piano partner, Rieko Yoshizumi, both live in the Elbe metropolis; both therefore belong to the tradition that brought forth the works preserved on this CD. The listener listens, is astounded, reads in the booklet, ponders things, listens again, reads… "Aphrodite Dances" – works by Hans Börner, Otto Reinhold and Johannes Paul Thilmann are collected here, celebrating the independence of art in timeless manner: "elegance of attitude" and "zestful melodic gestures" imparted by both musicians with inspiration and flawless technique. Another path in the 20th century: gripping and absolutely worth listening to!

Otto Reinhold's Violin Sonata is like Hindemith with added charm, and Johannes Paul Thilmann's two sonatinas and eight duos breathe an unexpectedly Paisian air. Hans Börner's engaging Kleines Ballett and Aphrodite's Dances round out a highly anjoyable disc.
Have a look into the review of the British monthly print magazine The Strad!