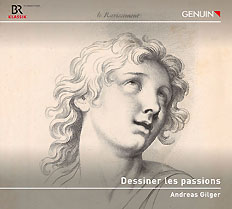 GEN 22768
EAN: 4260036257687
7.1.2022

| | |
| --- | --- |
| Jean-Henri D'Anglebert (1629–1691) | |
| from Pièces de Clavecin, 1689 (Suite in G major) | |
| Prélude | |
| Allemande | |
| Courante | |
| Double de la Courante | |
| 2.e Courante | |
| 3.e Courante | |
| Sarabande | |
| Gigue | |
| 2.e Gigue | |
| Gaillarde | |
| Chaconne. Rondeau | |
| Gavotte | |
| Menuet | |
| Henry Du Mont (1610–1684) | |
| from Manuscrit Bauyn, s.d. (Suite in d minor) | |
| Allemande | |
| Courante | |
| Pavane | |
| Jean-Nicolas Geoffroy (1633–1694) | |
| from Livre des pièces de clavessin de tous les tons naturels et transposéz, s.d. (Suite in F major) | |
| Allemande | |
| Courante | |
| Sarabande | |
| Chaconne | |
| Jacques Champion de Chambonnières (1601/1602–1672) | |
| from Les Pièces de Clavessin, 1670 (Suite in a minor) | |
| Allemande la Rare | |
| Courante | |
| Double de la Courante | |
| Courante | |
| Sarabande | |
| Gaillarde | |
| Louis Couperin (c.1626–1661) | |
| from Manuscrit Bauyn, s.d. (Suite in C major) | |
| Prelude | |
| Allemande | |
| Courante | |
| Sarabande | |
| Passacaille | |
| | |
Harpsichord Works of the Grand Siècle by D'Anglebert, Du Mont, Geoffroy, de Chambonnières, Couperin

In stock, shipping in 1-2 days.

We offer free shipping!

Please read our General Terms and Conditions and Privacy Statement carefully.










Passions, emotions, affects: They are at the heart of the study of harpsichord music of the "Grand Siècle" in France, which produced composers such as Louis Couperin, Henry Du Mont and Jean-Henri D'Anglebert. In his first GENUIN solo CD, the young, first-rate harpsichordist Andreas Gilger relies on the perfect combination of a high-quality copy of a historical instrument and a room of ideal dimensions. In the Golden Hall of the Castle of Oettingen, he plays vibrant, passionate, surprising music of the 17th century, including a suite by Jean-Nicolas Geoffroy, which is now available on CD for the first time. This is differentiated and rhetorically lucid harpsichord playing, which brings out the modernity and topicality of this music!





Nominated for the International Classical Music Award 2023




musica Dei donum
"The combination of music, instrument and recording venue is pretty much ideal. [...] In short, this is a superb disc, which no lover of the harpsichord should miss." Review from 22.08.2023