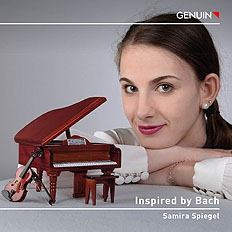 GEN 21756
EAN: 4260036257564
1.10.2021

| | |
| --- | --- |
| Ferruccio Busoni (1866–1924) | |
| Chaconne (1892–1916) | |
| Franz Liszt (1811–1886) | |
| Fantasy and Fugue on the Theme B-A-C-H, S.529 (1855/1870 piano version) | |
| Francis Poulenc (1899–1963) | |
| Valse-improvisation sur le nom de Bach, FP 62 (1932) | |
| Damian Scholl (*1988) | |
| ...est un fleuve tranquille (2013) | |
| Eugène Ysaÿe (1858–1931) | |
| Sonata for Solo Violin, Op. 27, No. 2 "Jacques Thibaud" (1923) | |
| Obsession: Prelude | |
| Malinconia | |
| Danse des Ombres: Sarabande | |
| Les Furies | |
| Johann Sebastian Bach (1685–1750) | |
| Partita No. 2 in D minor, BWV 1004 (1717–1720) | |
| Chaconne | |
| | |
Works by Bach, Busoni, Liszt, Poulenc, Scholl and Ysaÿe
Samira Spiegel, Piano and Violin


In stock, shipping in 1-2 days.

We offer free shipping!

Please read our General Terms and Conditions and Privacy Statement carefully.










Samira Spiegel is an exceptional talent: she has won prizes at international competitions on both the violin and the piano! With GENUIN, she now presents an exciting CD featuring music for both instruments inspired by Bach. On the piano, the works range from Franz Liszt's Fantasie und Fuge to Busoni's adaptation of the Chaconne and Francis Poulenc's Waltz Improvisation to Damian Scholl's un fleuve tranquille from 2013. On the violin, she juxtaposes Eugène Ysaÿe's fifth solo sonata, which is genuinely haunted by Bach, with the original Chaconne by the great Leipzig master. An adventurous and ludicrously virtuosic ride through styles and centuries!