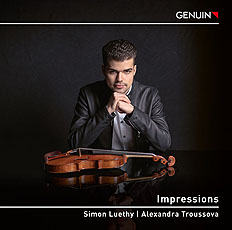 GEN 21754
EAN: 4260036257540
3.9.2021

| | |
| --- | --- |
| Ludwig van Beethoven (1770–1827) | |
| Sonata for Piano and Violin No. 5 in F major, Op. 24, "Spring" (1800/01) | |
| Allegro | |
| Adagio molto espressivo | |
| Scherzo: Allegro molto | |
| Rondo: Allegro ma non troppo | |
| Sergei Prokofiev (1891–1953) | |
| Sonata for Violin and Piano No. 2 in D major, Op. 94a (1943) | |
| Moderato | |
| Presto | |
| Allegro con brio | |
| Henryk Wieniawski (1835–1880) | |
| Variations on an Original Theme for Violin and Piano, Op. 15 (1854) | |
| Franz Waxman (1906–1967) | |
| Carmen Fantasie for Violin and Piano (1946) | |
| | |
Works by Beethoven, Prokofiev, Wieniawski and Waxman

Simon Luethy, Violin
Alexandra Troussova, Piano


In stock, shipping in 1-2 days.

We offer free shipping!

Please read our General Terms and Conditions and Privacy Statement carefully.










On his debut GENUIN CD, Simon Luethy lets his nearly 300-year-old violin by Nicola Gagliano sing: The violinist, who made his Carnegie Hall debut back in 2017, plays works by Ludwig van Beethoven, Sergei Prokofiev, Henryk Wieniawski, and Franz Waxman – all highlights of the repertoire and touchstones for any young musician. Luethy plays the classic Spring Sonata and the bravura Carmen Fantasy with precise articulation and tonal beauty. In the sonatas, pianist Alexandra Troussova proves to be an equal partner, and in the virtuoso pieces she provides the young violinist with a rich-sounding backdrop.