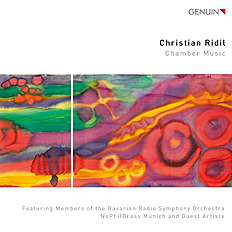 GEN 21737
EAN: 4260036257373
9.4.2021

| | |
| --- | --- |
| Christian Ridil (*1943) | |
| The Meeting (1993) Four Humoresques for Brass Quintet | |
| With a kind of crypticness | |
| Like a Bavarian "Zwiefacher" | |
| Slow | |
| (Final Rag) Not too fast | |
| Christian Ridil | |
| Märchenbilder (1999) for flute and percussion | |
| o. B. | |
| Viertel=100 | |
| Intermezzo (percussion solo) | |
| Viertel=60 | |
| Viertel=116 | |
| Christian Ridil | |
| Variations on a Hungarian Dance (2016/19) for clarinet, bassoon and piano | |
| Introduktion – Lento | |
| Thema – Allegro robusto | |
| Var. I – L'sso tempo | |
| Var. II – "Saragiga" – Solenne | |
| Var. III – Allegro | |
| Var. IV – Tempo di valzer | |
| Var. V – "Gigabanda"– Un poco giocoso | |
| Var. VI – Fuga con Tema – Un poco sfrenato | |
| Christian Ridil | |
| Platzkonzert (1990) for chromatic harmonica, bass clarinet, 2 bassoons and harpsichord | |
| Introduction und Schützenmarsch samt Trio – Adagio/Marcato | |
| Wilde Jagd! – Wirklich rasch | |
| Nächtliches Intermezzo – Still | |
| Parade – Frisch, doch nicht zu schnell | |
| Christian Ridil | |
| Deux Danses Macabres (1995/96) for flute, clarinet, trumpet, trombone, perc., violin, double bass | |
| Lento – Rasch | |
| Presto – Molto solenne, mehr als doppelt so langsam – Presto | |
| | |
Chamber Music
Mitglieder des Symphonieorchesters des Bayerischen Rundfunks, Members of the BRSO
NoPhilBrass, Brass Ensemble
Gäste / Guest Artists


In stock, shipping in 1-2 days.

We offer free shipping!

Please read our General Terms and Conditions and Privacy Statement carefully.










World premiere recordings are brought together on this new GENUIN CD featuring works by the composer Christian Ridil: Renowned musicians from the Bavarian Radio Symphony Orchestra, among others, play in formations ranging from brass quintet to flute and percussion to the exquisite combination of chromatic harmonica and harpsichord. The works of the Goethe University Frankfurt's former university music director are characterized by stylistic diversity, wit, charm, and virtuosity and yet bear Ridil's clear signature. Absolutely worth discovering!