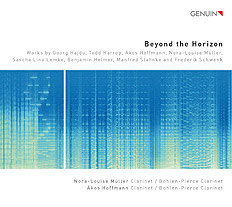 | | |
| --- | --- |
| Georg Hajdu (*1960) | |
| Burning Petrol (after Alexander Nikolayevich Scriabin) (2014) | |
| Todd Harrop (*1970) | |
| Maelstrom (2015) | |
| Ákos Hoffmann (*1973) | |
| Duo Dez (2015) | |
| Nora-Louise Müller (*1977) | |
| Morpheus (2015) | |
| Georg Hajdu | |
| Beyond the Horizon (2008) | |
| Todd Harrop | |
| Bird of Janus (2012) | |
| Sascha Lino Lemke (*1976) | |
| Pas de deux (2008) | |
| Benjamin Helmer (*1985) | |
| Preludio e Passacaglia (2015) | |
| Manfred Stahnke (*1951) | |
| Die Vogelmenschen von St. Kilda (2007) | |
| Fredrik Schwenk (*1960) | |
| Night Hawks (2007) | |
| | |
Works by Georg Hajdu, Todd Harrop, Ákos Hoffmann, Nora-Louise Müller, Sascha Lino Lemke, Benjamin Helmer, Manfred Stahnke and Frederik Schwenk
Nora-Louise Müller, Clarinet, Bohlen-Pierce Clarinet
Ákos Hoffmann, Clarinet, Bohlen-Pierce Clarinet


In stock, shipping in 1-2 days.

Shipping only within the EU, UK, Switzerland, Norway
We offer free shipping!

Please read our General Terms and Conditions and Privacy Statement carefully.











The new GENUIN CD offers fascinating acoustic experiments with compositions based on the tonal system of the Bohlen-Pierce scale. This system uses a twelfth instead of an octave and is divided into thirteen tonal steps, taking the listener into magical-archaic tonal worlds that transcend all listening habits. Nora-Louise Müller and Ákos Hoffmann, two outstanding clarinetists, and their fellow musicians play their own compositions on instruments specially made for this scale system, as well as music by Georg Hajdu, Todd Harrop and others.