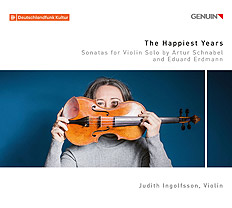 GEN 20711
EAN: 4260036257113
8.5.2020

| | |
| --- | --- |
| Artur Schnabel (1882–1951) | |
| Sonata for Violin Solo (1919) | |
| I. Langsam, sehr frei und leidenschaftlich | |
| II. In kräftig-fröhlichem Wanderschritt, durchweg sehr lebendig | |
| III. Zart und anmutig, durchaus ruhig | |
| IV. Äußerst rasch (prestissimo) | |
| V. Sehr langsame Halbe, mit feierlichem ernstem Ausdruck, doch stets schlicht | |
| Eduard Erdmann (1896–1958) | |
| Sonata for Violin Solo, Op. 12 (1921) | |
| I. Ruhig – Fließend – Ruhig | |
| II. Allegretto scherzando – Trio: Einfach, wie eine Volksweise | |
| III. Langsam | |
| IV. Lebendig | |
| | |
Sonatas for Violin Solo by Artur Schnabel and Eduard Erdmann

In stock, shipping in 1-2 days.

We offer free shipping!

Please read our General Terms and Conditions and Privacy Statement carefully.









The exceptional violinist Judith Ingolfsson has brought genuine rarities to the market with her new GENUIN CD. Only a handful of violinists around the world perform the highly demanding sonatas for solo violin by Artur Schnabel and Eduard Erdmann, and there is currently no commercial recording of Erdmann's work at all! The sonatas of these two great pianists and composers represent autonomous musical universes that are peppered with technical difficulties and are full of depth and character. A musical message in a bottle from a forgotten time that is absolutely worth recovering!





Das Orchester
"Insgesamt ist hier eine rundum gelungene CD entstanden, die vielleicht dazu beitragen kann, beide Werke stärker im Bewusstsein der Öffentlicheit zu verankern."
Rezension von Stefan Drees, Dezember 2020

American Record Guide
"Ingolfsson's performances are technically immaculate and full of character. These very rarely heard works are fortunate to have such a highly skilled and sympathetic interpreter."
September/October 2020

ClicMusique!
"(...) un programme plein d'inventivité, de ferveur et de profondeur, servi avec talent par la violoniste, doté d'un intéressant livret (anglais et allemand). (...) Une découverte authentique, un hommage mérité et magnifique !" Review by Alain Monnier for ClicMusique!, 29.7.20

Pizzicato
"Judith Ingolfsson plays with a crystal clear, transparent sound, which nevertheless makes the music sound alive. (...) Ingolfsson's performance is effortless, straightforward and also explores the subtleties along the way. A discovery well worth listening!"
Review by Uwe Krusch for "Pizzicato", 18.6.20.

Sonograma
"Ingolfson´s genius finds musical and human utterances which are deeply profound and universal. The virtuoso interpretation of the Islandic violinist is incandescent, precise to the finest detail and of impeccable rigour."
Review by Carme Miró for "Suplement de Discos", 29.5.20.
Original language: Catalan