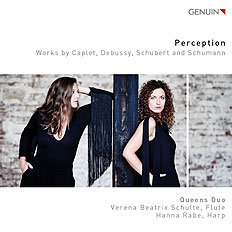 | | |
| --- | --- |
| Robert Schumann (1810–1856) | |
| Drei Romanzen, Op. 94 (1849) | |
| Nicht schnell | |
| Einfach, innig | |
| Nicht schnell | |
| Franz Schubert (1797–1828) | |
| Sonata in A minor, D. 821 "Arpeggione Sonate" (1824) | |
| Allegro moderato | |
| Adagio | |
| Allegretto | |
| Claude Debussy (1862–1918) | |
| Prélude à l'après-midi d'un faune, L. 86 (1891–94) | |
| (transcribed by Judy Loman) | |
| André Caplet (1878–1925) | |
| Deux petites pièces (c. 1897) | |
| Rêverie | |
| Petite valse | |
| | |
Works by Caplet, Debussy, Schubert and Schumann

In stock, shipping in 1-2 days.

Shipping only within the EU, UK, Switzerland, Norway
We offer free shipping!

Please read our General Terms and Conditions and Privacy Statement carefully.


The mythical emotional worlds of Romanticism and the flowing imagery of Impressionism unite on the new CD by the award-winning Queens Duo, creating an enchanting world of sound. Flutist Verena Beatrix Schulte and harpist Hanna Rabe develop an expressiveness full of magic and sheer virtuosity with arrangements that are partly their own. From the very first notes of Schumann's "Romances," flute and harp entwine, merging into one another in the floating sounds of Debussy's Faun and with exquisite elegance in Caplet. With these delicately interpreted snapshots between dream and reality, the two young musicians create surprises and skilfully put the traditional image of a flute-harp duo in a new light.












Ö1, the culture channel of ORF
Perception will be presented on 21 February 2020 at 11:30 in the programme "Des Cis".

WDR
The Queens Duo will be heard on 10 February 2020 in an interview from 3.30 to 4 pm on WDR TonArt about their new CD.

Lippisches Kultur-Journal
"Sie intonieren die anspruchsvollen Arrangements virtuos und glänzen in den gesanglichen Passagen mit Eleganz in der Tongebung."
Besprechung im Lippischen Kultur-Journal von Barbara Luetgebrune, 2020