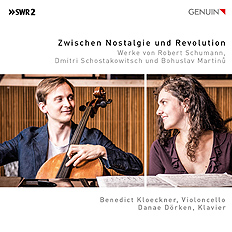 GEN 19660
EAN: 4260036256604
5.7.2019

| | |
| --- | --- |
| Robert Schumann (1810–1856) | |
| Drei Fantasiestücke für Violoncello und Klavier op. 73 (1849) | |
| I. Zart und mit Ausdruck | |
| II. Lebhaft, leicht | |
| III. Rasch und mit Feuer | |
| Dmitri Schostakowitsch (1906–1975) | |
| Sonate d -Moll für Violoncello und Klavier op. 40 (1934) | |
| Allegro non troppo | |
| Allegro | |
| Largo | |
| Allegro | |
| Robert Schumann | |
| Adagio und Allegro As -Dur op. 70 (1849) | |
| Langsam, mit innigem Ausdruck | |
| Rasch und feurig | |
| Bohuslav Martinu (1890–1959) | |
| Variationen über ein slowakisches Thema für Violoncello und Klavier H. 378 (1959) | |
| Thema: Poco Andante, rubato | |
| Var. 1: Moderato | |
| Var. 2: Poco Allegro | |
| Var. 3: Moderato | |
| Var. 4: Scherzo Allegretto | |
| Var. 5: Allegro | |
| Robert Schumann | |
| Fünf Stücke im Volkston für Violoncello und Klavier op. 102 (1849) | |
| Mit Humor | |
| Langsam | |
| Nicht schnell, mit viel Ton zu spielen | |
| Nicht zu rasch | |
| Stark und markiert | |
| | |
Between Nostalgia and Revolution
Works by Robert Schumann, Dmitri Shostakovich and Bohuslav Martinu
Benedict Kloeckner, Cello
Danae Dörken, Piano


In stock, shipping in 1-2 days.

We offer free shipping!

Please read our General Terms and Conditions and Privacy Statement carefully.








One of the most exciting cellists of the younger generation and the "Piano Discovery of the Year" team up for this GENUIN release: Benedict Kloeckner and Danae Dörken perform works by Robert Schumann, Dmitri Shostakovich, and Bohuslav Martinu. They have named their CD Nostalgia and Revolution, a title that applies to all three composers who, in a twofold manner, both mirrored and shaped their times. Splendid duo playing with long and sweeping lines together with a fair share of hooks and barbs—a fascinating chamber music production that gives us hope that we'll be hearing more from this duo in the future!




Nominated for the International Classical Music Award 2020

Fono Forum
"Benedict Kloeckner und Danae Dörken zeichnen feine Farbabtsufungen." Review of January 2020 by Georg Rudiger

Musik & Theater
"Starke Programm-Musik"
Besprechung von Burkhard Schäfer im Magazin Musik & Theater, September/Oktober 2019

concerti
"Kloeckner trifft, in perfekter Symbiose mit der Pianistin Danae Dörken, den romantischen Tonfall der schumannschen Charakterstücke, bringt aber auch die Ambivalenz von Schostakowitschs grandioser Sonate op. 40 auf den Punkt. Und Martinůs Variationen H. 378: eine echte Entdeckung!"
Besprechung im Magazin concerti von Frank Armbruster, 13.8.2019

Pizzicato
"Klöckner and Dörken play the work energetically and lively, with accurate (not exaggerated) rhythms, expressively but without pathos. Thus, this is a very attractive CD!"
Besprechung im Magazin Pizzicato von Remy Franck, 9.8.2019