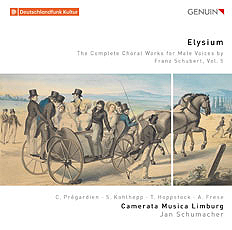 | | |
| --- | --- |
| Franz Schubert (1797–1828) | |
| The Complete Choral Works for Male Voices by Franz Schubert, Vol. 5 | |
| Zur Namensfeier meines Vaters D 80 | |
| Frühlingsgesang D 709 | |
| An die Freude D 189 | |
| Hier umarmen sich getreue Gatten D 60 | |
| Liebe säuseln die Blätter D 988 | |
| Das stille Lied D 916 | |
| Das Grab D 377 | |
| Unendliche Freude durchwallet das Herz D 54 | |
| Gondelfahrer D 809 | |
| Hier strecket der wallende Pilger D 57 | |
| Nachtmusik D 848 | |
| Trinklied im Winter D 242 | |
| Trinklied (Auf! Jeder sei nun froh) D 267 | |
| Dessen Fahne Donnerstürme wallte D 58 | |
| Trinklied (Ihr Freunde und du gold'ner Wein) D 183 | |
| Mailied (Grüner wird die Au) D 129 | |
| Mondenschein D 875 | |
| Unendliche Freude durchwallet das Herz D 51 | |
| Der Wintertag D 984 | |
| Vorüber die stöhnende Klage D 53 | |
| Gesang der Geister über den Wassern D 705 | |
| | |
The Complete Choral Works for Male Voices by Franz Schubert, Vol. 5
Camerata Musica Limburg
Jan Schumacher, Conductor
Christoph Prégardien, Tenor
Sebastian Kohlhepp, tenor
Tilman Hoppstock, Guitar
Andreas Frese, Piano


In stock, shipping in 1-2 days.

Shipping only within the EU, UK, Switzerland, Norway
We offer free shipping!

Please read our General Terms and Conditions and Privacy Statement carefully.








"Freude, schöner Götterfunken!" (Joy, fair sparks of the gods) seems to be the cry of the fifth and penultimate GENUIN CD by the Camerata Limburg of the complete recording of Schubert's works for male choir. The title of the program is "Elysium," which says it all. The CD is a pleasurable stroll through heavenly realms: known and unknown, from poems by Schiller, Klopstock and many, many other wonderful poets. The interpretation is on par with the entire collection: an immaculate ensemble sound and an interpretation wonderfully worked out by conductor Jan Schumacher and his masters. The only drawback? The next CD in autumn will be the last of this series.

Radio Bremen
"Franz Schubert beschäftigte sich sein Leben lang mit der Chormusik. Camerata Musica Limburg hat sich mit seinem Gesamtwerk auseinandergesetzt. Diese fünft CD mit männlichem Chorgesang und zwei Gesangssolisten ist rundum gelungen." Listen to the whole review of 19th of June 2019 here on the website of Radio Bremen.

rbb kultur
"Und man fühlt sich tatsächlich beim Hören schon nach wenigen Minuten keinesfalls in der Hölle, sondern tatsächlich im Elysium! Der Chorklang ist klar, sehr homogen und die Textverständlichkeit frappierend. Aber - und das ist das Faszinierende - der Klang hat dazu enormen Schmelz und nicht nur bei den Tenören! Es hat Seele!" Read the whole review of 21th of July 2019 here on the website of rbb kultur.