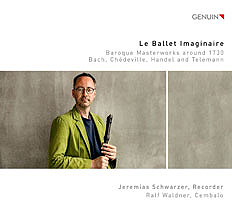 | | |
| --- | --- |
| Johann Sebastian Bach (1685–1750) | |
| Partita in C minor, after BWV 997 | |
| Preludio | |
| Fuga | |
| Sarabande | |
| Gigue-Double | |
| Nicolas Chédeville (1705–1782) | |
| Sonata in G minor Il Pastor Fido | |
| Vivace | |
| Fuga da Capella | |
| Largo | |
| Allegro ma non presto | |
| Georg Philipp Telemann (1681–1767) | |
| Fantasia X pour flute seule, TWV 40: 2–13 | |
| A Tempo Giusto | |
| Presto | |
| Moderato | |
| George Frideric Handel (1685–1759) | |
| Sonata in B-flat major, HWV 377 | |
| Air | |
| Adagio | |
| Allegro | |
| Johann Sebastian Bach | |
| Sonata in A minor, BWV 1020 | |
| Allegro | |
| Adagio | |
| Allegro | |
| Georg Philipp Telemann | |
| Fantasia III pour flute seule, TWV 40: 2–13 | |
| Largo—Vivace—Largo—Vivace | |
| Allegro | |
| George Frideric Handel | |
| Sonata in F major, HWV 369 | |
| Grave | |
| Allegro | |
| Alla siciliana | |
| Allegro | |
| Georg Philipp Telemann | |
| Trio Sonata in B-flat major, TWV 42: B4 | |
| Dolce | |
| Vivace | |
| Siciliana | |
| Vivace | |
| Georg Philipp Telemann | |
| Fantasia XI pour flute seule, TWV 40: 2–13 | |
| Allegro—Adagio—Vivace | |
| Allegro | |
| Johann Sebastian Bach | |
| Sonata in A major, BWV 1032 | |
| Vivace | |
| Largo e dolce | |
| Allegro | |
| | |
Baroque Masterworks around 1730
Bach, Chédeville, Handel and Telemann

Jeremias Schwarzer, Recorder
Ralf Waldner, Cembalo


In stock, shipping in 1-2 days.

Shipping only within the EU, UK, Switzerland, Norway
We offer free shipping!

Please read our General Terms and Conditions and Privacy Statement carefully.








On his new GENUIN CD, Jeremias Schwarzer allows his recorder to dance: Le Ballet imaginaire is the name of this production that brings together Baroque masterpieces by Bach, Chédeville, Telemann, and Handel. Schwarzer's ideally-matched partner, who is one of his instrument's leading exponents, is Ralf Waldner on the harpsichord. The two artists not only dance through this enchanting and spirited music with lightness and vitality, but also make it sing and speak. Originals and counterfeits, kings and opera princes, love songs and sparkling virtuosity – a ballet full of passions!






overture
"Die Aufnahme fasziniert durch tänzerische Leichtigkeit, virtuose Detail- freude und brillantes Zusammenspiel. Hier musizieren zwei erstklassige Solisten charmant und engagiert miteinander, dass es wirklich ein Genuss ist. Exquisit! Unbedingt anhören!" Read more of the review of August 2019 here on theBlog of ouverture.

Early Music Review
"The playing of both instruments is impressive, though I do find some of the recorder articulation a touch capricious and some of it – especially staccato notes – aggressive for a flauto dolce." Review of Mai 2019 here on earlymusicreview.com.

Fono Forum
"Differenziertes Spiel … scharfe Artikulation auch in schnelleren Passagen … exzellentes Spiel von Ralf Waldner …" Review im magazine Fono Forum of Februar 2020

Fono Forum
"Mit ansteckendem Esprit, Variabilität seines Tons, der Farben, der Dynamik und mit überbordneder Musikalität sowie souveräner, voll ausgereizter Virtuosität geht Jeremias Schwarzer [...] die Werke an."
Rezension von Elisabeth Richter im Magazin Fono Forum, Dezember 2019

WDR 3
"Le Ballet Imaginaire": festlich und leicht. Jeremias Schwarzer und Ralf Waldner spielen grazil, elegant und feinsinnig"
CD of the week (1.7.-5.7.) on WDR 3. Listen to the broadcast here on the website of WDR 3.