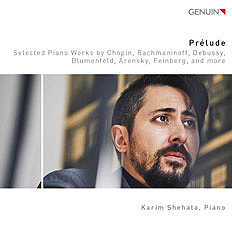 GEN 19653
EAN: 4260036256536
5.4.2019

| | |
| --- | --- |
| Sergei Prokofiev (1891–1953) | |
| Prélude, Op. 12 No. 7 | |
| Johann Sebastian Bach (1685–1750) | |
| Prélude in B minor BWV 855a, transcribed by Alexander Siloti | |
| Sergei Rachmaninoff (1873–1943) | |
| Prélude, Op. 32 No. 12 | |
| Maurice Ravel (1875–1937) | |
| Le Tombeau de Couperin: I. Prélude | |
| Felix Blumenfeld (1863–1931) | |
| Prélude, Op. 17 No. 14 | |
| Ottorino Respighi (1879–1936) | |
| Tre preludi sopra melodie gregoriane: No. 2 | |
| Sergei Taneyev (1856–1915) | |
| Prélude in F major | |
| Gabriel Fauré (1845–1924) | |
| Prélude, Op. 103 No. 3 | |
| Frédéric Chopin (1810–1849) | |
| Prélude, Op. 28 No. 8 | |
| Bohuslav Martinů (1890–1959) | |
| Prélude en forme de Largo | |
| Anton Arensky (1861–1906) | |
| Prélude, Op. 63 No. 1 | |
| Samuil Feinberg (1890–1962) | |
| Prélude, Op. 15 No. 3 | |
| Claude Debussy (1862–1918) | |
| Préludes Deuxième Livre: | |
| La terrasse des audiences du clair de lune | |
| Olivier Messiaen (1908–1992) | |
| Préludes pour piano: | |
| Un reflet dans le vent | |
| Alexander Scriabin (1871–1915) | |
| Prélude, Op. 11 No. 2 | |
| | |
Selected Piano Works by Chopin, Rachmaninoff, Debussy, Blumenfeld, Arensky, Feinberg, and more

In stock, shipping in 1-2 days.

We offer free shipping!

Please read our General Terms and Conditions and Privacy Statement carefully.








This sensuous and poignant CD by pianist Karim Shehata, his second CD on the GENUIN label, is more than just a prelude: it is a collection whose pieces flow into each other, comment, prelude and postlude so seamlessly that, without the booklet, it is hard to believe that these are exclusively preludes—pieces conceived as preparation for something essential. The list of composers is a "Who is Who" ranging from Johann Sebastian Bach to Olivier Messiaen. The young and yet already mature Karim Shehata plays all this with such ease and depth that one would like to rank him among the greats! Absolutely recommendable.