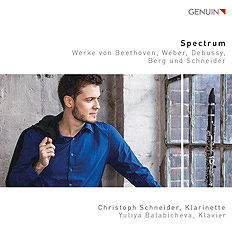 | | |
| --- | --- |
| Carl Maria von Weber (1786–1826) | |
| Grand Duo concertant op. 48 Es -Dur für Klarinette und Klavier (1815/16) | |
| Allegro con fuoco | |
| Andante con moto | |
| Rondo. Allegro | |
| Alban Berg (1885–1935) | |
| Vier Stücke op. 5 für Klarinette und Klavier (1913) | |
| Mäßig | |
| Sehr langsam | |
| Sehr rasch | |
| Langsam | |
| Ludwig van Beethoven (1770–1827) | |
| Sonate F-Dur op. 24 für Violine und Klavier (1800/01) | |
| Allegro | |
| Adagio molto espressivo | |
| Scherzo. Allegro molto | |
| Rondo. Allegro ma non troppo | |
| Christoph Schneider (*1989) | |
| Konstrukt I – Thema und Variationen für Klarinette solo | |
| Claude Debussy (1862–1918) | |
| Première Rhapsodie für Klarinette und Klavier (1909/10) | |
| | |
Works by Beethoven, Weber, Debussy, Berg and Schneider
Christoph Schneider, Clarinet
Yuliya Balabicheva, Piano


In stock, shipping in 1-2 days.

Shipping only within the EU, UK, Switzerland, Norway
We offer free shipping!

Please read our General Terms and Conditions and Privacy Statement carefully.








The young clarinetist Christoph Schneider is not only the 1st solo clarinetist of the Deutsche Oper am Rhein, but also winner of numerous prizes (e.g., the ARD Music Competition and the Concours International "Henri Tomasi"). And his GENUIN debut CD as a duo with the equally highly acclaimed pianist Yuliya Balabicheva demonstrates why: this is playing at the highest level, featuring chamber music performed with great sensitivity. From classics such as Weber's Grand Duo to adaptations such as Beethoven's Spring Sonata to new music—and even by the musician himself: Schneider's crazy virtuoso "Konstrukt" experiences its world premiere recording on the CD. More of it!