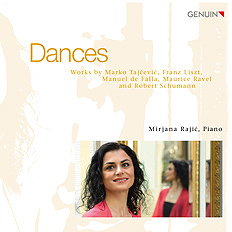 GEN 19554
EAN: 4260036255546
8.2.2019

| | |
| --- | --- |
| Marko Tajcevic (1900–1984) | |
| Balkan Dances (1927) | |
| Con moto | |
| Rustico | |
| Vivo | |
| Sostenuto e cantabile | |
| Allegro ritmico | |
| Allegretto | |
| Allegro quasi pesante | |
| Franz Liszt (1811–1886) | |
| Venezia e Napoli (1859) | |
| Tarantella | |
| Manuel de Falla (1876–1946) | |
| El Amor Brujo (Love, the Magician) (1915) | |
| Danza Ritual Del Fuego (Fire Dance) | |
| Maurice Ravel (1875–1937) | |
| Valses nobles et sentimentales (1911) | |
| Modéré – très franc | |
| Assez lent – avec une expression intense | |
| Modéré | |
| Assez animé | |
| Presque lent – dans un sentiment intime | |
| Assez vif | |
| Moins vif | |
| Epilogue – lent | |
| Robert Schumann (1810–1856) | |
| Davidsbündlertänze, Op. 6 (1837/38) | |
| Lebhaft | |
| Innig | |
| Mit Humor | |
| Ungeduldig | |
| Einfach | |
| Sehr rasch | |
| Nicht schnell | |
| Frisch | |
| Lebhaft | |
| Balladenmässig. Sehr rasch | |
| Einfach | |
| Mit Humor | |
| Wild und lustig | |
| Zart und singend | |
| Frisch | |
| Mit gutem Humor | |
| Wie aus der Ferne | |
| Nicht schnell | |
| | |
Works by Marko Tajcevic, Franz Liszt, Manuel de Falla, Maurice Ravel and Robert Schumann

In stock, shipping in 1-2 days.

We offer free shipping!

Please read our General Terms and Conditions and Privacy Statement carefully.








Fire and passion, rhythm, and pulsating joie de vivre: that's what virtually jumps out when you put Mirjana Rajic's GENUIN debut CD into the player and press "play." There are original Balkan beats by Marko Tajcevic, nobles et sentimentales from France by Maurice Ravel as well as unworldly romantic frenzy by Robert Schumann. Mirjana Rajic, the young, internationally award-winning and celebrated pianist based in Dresden, pours her heart and soul into this CD—and at an extremely high pianistic level!

Classics Today
"Rajic strikes the right balance between classical proportion and alluring inflection throughout the Ravel Valses (...) and fully captures the volatile mood shifts from piece to piece in Schumann's Davidsbündlertänze. A most captivating release, all around." Read the entire review by Jed Distler here.