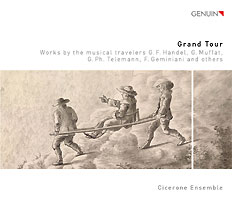 GEN 19648
EAN: 4260036256482
11.1.2019

| | |
| --- | --- |
| Jean-Baptiste Barrière (1707–1747) | |
| Sonates pour le Violoncelle avec la Basse Continüe Livre III, Sonata II a Tre, D minor | |
| Adagio | |
| Allegro | |
| Aria. Largo | |
| Giga | |
| George Frideric Handel (1685–1759) | |
| Solos for a German Flute, a Hoboy or Violin, Sonata V, G major | |
| Adagio | |
| Allegro | |
| Adagio | |
| Bouree | |
| Menuetto | |
| Georg Muffat (1653–1704) | |
| Apparatus musico-organisticus | |
| Passacaglia in G minor | |
| Georg Philipp Telemann (1681–1767) | |
| Musique de table, Solo in B minor | |
| Cantabile | |
| Allegro | |
| Dolce | |
| Allegro | |
| Francesco Geminiani (1687–1762) | |
| Sonates Pour le Violoncelle et Basse Continue, Ouvrage Cinquieme, Sonata III in C major | |
| Andante | |
| Allegro | |
| Affetuoso | |
| Allegro | |
| Johan Helmich Roman (1694–1758) | |
| XII Sonate a Flauto Traverso, Violone e Cembalo, Sonata VI in B minor | |
| Larghetto | |
| Allegro | |
| Non troppo Allegro | |
| Grave | |
| Allegro | |
| Johann Joachim Quantz (1697–1773) | |
| Solo per il Flauto Traverso et Basso, No. 231 in B minor | |
| Larghetto | |
| Allegretto | |
| Presto | |
| | |
Works by the musical travellers G. F. Händel, G. Muffat, G. Ph. Telemann, F. Geminiani and others

In stock, shipping in 1-2 days.

We offer free shipping!

Please read our General Terms and Conditions and Privacy Statement carefully.








Listening to music is always a journey for the listener – but with the Ensemble Cicerone's new GENUIN CD, the composers were already adventurers – people who, in the Baroque era, took to the dangerous roads on land and water all over Europe and ensured that musical styles met and mixed. The musicians of the ensemble, which bears in its name the great travel guidebooks Cicerone, teach at the Mozarteum and at the Cologne University of Music: they let the intricate paths of emotions arise before our inner ears in the wonderful music of Hδndel, Muffat, Telemann, and others and thus cast a spell on us. Better than Baedeker!




Nominated for the International Classical Music Award 2020




MusicWeb International
"... fascinating and admirably adventurous programme, sensitively played."
Review by Michael Wilkinson on
MusicWeb International, Max 2019

Toccata
"Das Programm ist abwechslungsreich und die Interpretation ist spannend, und nicht selten sogar aufregend. Ich sehe weiteren Aufnahmen des Cicerone Ensembles neugierig entgegen."
Besprechung im Magazin Toccata von Johan van Veen, Nr. 107, Mai-Juni 2020