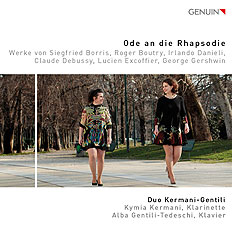 GEN 18625
EAN: 4260036256253
2.11.2018

| | |
| --- | --- |
| Roger Boutry (*1932) | |
| ASUKA – Rhapsodie pour clarinette et piano | |
| I La rivière Asuka | |
| II Danseuses de Kinoe | |
| III Rush Hour | |
| Lucien Excoffier (1917–2010) | |
| Rhapsodie Provençale für Klarinette und Klavier | |
| World Premiere Recording | |
| Irlando Danieli (*1944) | |
| Ode agli abitatori di un albero abbattuto | |
| World Premiere Recording | |
| Claude Debussy (1862–1918) | |
| Première Rhapsodie | |
| Siegfried Borris (1906–1987) | |
| Rhapsody and Capriccio op. 94 | |
| World Premiere Recording | |
| George Gershwin (1898–1937) | |
| Rhapsody in Blue | |
| World Premiere Recording of this Arrangement | |
| | |
Works by Siegfried Borris, Roger Boutry, Irlando Danieli, Claude Debussy, Lucien Excoffier and George Gershwin
Duo Kermani-Gentili
Kymia Kermani, Clarinet
Alba Gentili-Tedeschi, Piano


In stock, shipping in 1-2 days.

We offer free shipping!

Please read our General Terms and Conditions and Privacy Statement carefully.








"Rhapsody" is the theme of fabulous duo debut CD featuring clarinetist Kymia Kermani and pianist Alba Gentili-Tedeschi. With great intensity, the young musicians plunge into the music of the twentieth century–music that, in the improvisational tradition of singers and bards, searches formally for new ways as if born in the moment. The piano and clarinet sound equally free on this recording: the trills rejoice and the glissandi sob in works by Debussy, Gershwin, Borris, Boutry and others–four world premiere recordings are offered on this exceptional CD. A stroke of luck, not only for curious chamber music fans!