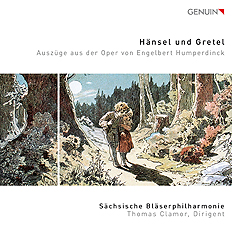 | | |
| --- | --- |
| Engelbert Humperdinck (1854–1921) | |
| Auszüge aus der Oper Hänsel und Gretel (1891–1892) | |
| Ouvertüre | |
| 1. Bild: Suse, liebe Suse | |
| 1. Bild: Brüderchen, komm, tanz mit mir | |
| 1. Bild: Ral-La-La-La, Ral-La-La-La | |
| 1. Bild: Sag doch, was soll denn der Besen | |
| 2. Bild: Vorspiel – Hexenritt | |
| 2. Bild: Ein Männlein steht im Walde | |
| 2. Bild: Der Sandmann | |
| 2. Bild: Abendsegen | |
| 2. Bild: Pantomime | |
| 3. Bild: Vorspiel – Knusperhäuschen | |
| 3. Bild: Das Taumännchen | |
| 3. Bild: Bleib stehn! Bleib stehn! | |
| 3. Bild: Knusperwalzer | |
| 3. Bild: Erlöst, befreit, für alle Zeit! | |
| 3. Bild: Finale – Juch, na da sind sie ja! | |
| | |
Excerpts from the Opera by Engelbert Humperdinck
Thomas Clamor, Conductor
Sächsische Bläserphilharmonie
Caroline Schnitzer
Anne Petzsch
Leevke Hambach
Josephin Queck
Frederik Tucker


In stock, shipping on January 4th.

Shipping only within the EU, UK, Switzerland, Norway
We offer free shipping!

Please read our General Terms and Conditions and Privacy Statement carefully.








"Brother, come dance with me": With the fairy tale opera "Hansel and Gretel," generations of children have been introduced to the magic world of opera. A selection of Humperdinck's timeless melodies is now available on a new, exciting GENUIN CD of the Saxon Wind Philharmonic under chief conductor Thomas Clamor, which presents the first version of the work for wind instruments only. Its unmistakable sound allows us to experience opera in an entirely new way. There are young, talented singers who we encounter as Hansel, Gretel, the Sand Man, and the Dew Fairy. Utterly suitable for Christmas trees!