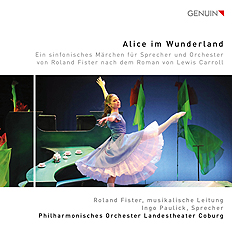 | | |
| --- | --- |
| Roland Fister (*1972) | |
| 1. Teil | |
| Der Bahnhof | |
| Der Sturz | |
| Das Wunderland | |
| Die Raupe | |
| Die Grinsekatze | |
| Roland Fister | |
| 2. Teil | |
| Die Teeparty | |
| Die Rosen | |
| Die Königin | |
| Das Krocketspiel | |
| Der König | |
| Der Bahnhof | |
| | |
A symphonic fairytale for narrator and orchestra by Roland Fister based on the novel by Lewis Carroll
Roland Fister
Philharmonisches Orchester Landestheater Coburg
Ingo Paulick
Heinz Janisch


In stock, shipping in 1-2 days.

Shipping only within the EU, UK, Switzerland, Norway
We offer free shipping!

Please read our General Terms and Conditions and Privacy Statement carefully.








The composer Roland Fister has set one of the most beautiful children's books to music: Lewis Carroll's "Alice in Wonderland." Who doesn't know the Cheshire Cat, the Mad Hatter and the White Rabbit with his pocket watch? They all come to life in Fister's ballet music, performed by the Philharmonic Orchestra of the Landestheater Coburg under the direction of the composer. Fister himself and children's author Heinz Janisch have contributed delightful interludes, which the actor Ingo Paulick has recorded. A tremendous symphonic fairytale, a GENUIN CD for the whole family!





Medienpreis LEOPOLD
"Alice in Wonderland" together with the CD "Kleine Augen, große Welt (Small eyes, big world)" is nominated for the LEOPOLD media award in the category "CD - For the whole family". The award ceremony will take place on 27 September 2019 at the WDR Funkhaus in Cologne.

Das Orchester
"... auch im weiteren Verlauf der elf auf der CD enthaltenen Tracks ergänzen sich Ingo Paulicks Stimme und die Musik des Philharmonischen Landesorchesters Coburg stimmungsvoll, geben einander Raum und werden zu einem einladenden Teppich für die eigene Imagination. Dazwischen gibt es zahlreiche allein musikalische Passagen, die neben der Vorstellung auch die Lust am Hören der einzelnen Instrumente anregen."
Review by Judith Ph. Franke in Das Orchester, 03/2019

Coburger Tageblatt
"Die Aufnahme, die vor genau einem Jahr im Kongresshaus Rosengarten entstand, überzeugt mit schwelgerischem, klangschönem Musizieren unter Leitung des Komponisten."
Review by Jochen Berger in Coburger Tageblatt, 26.10.2018

Kreuzer
"Mit dieser Produktion gelang Genuin eine wundervolle Synthese aus Musik und Text, die einen einzigartigen Zauberschleier ausbreitet, der nicht nur Kinder zum Träumen anregt."
Review in the magazine Kreuzer, Hagen Kunze, 02/2019