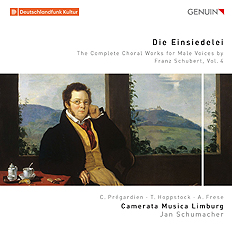 GEN 18616
EAN: 4260036256161
5.10.2018

| | |
| --- | --- |
| Franz Schubert (1797–1828) | |
| The Complete Choral Works for Male Voices by Franz Schubert, Vol. 4 | |
| Frühlingsgesang D 740 | |
| Verschwunden sind die Schmerzen D 88 | |
| Bergknappenlied D 268 | |
| Gesang der Geister über den Wassern D 538 | |
| Das Leben D 269 | |
| Punschlied (Vier Elemente, innig gesellt) D 277 | |
| Trinklied (Brüder, unser Erdenwallen) D 148 | |
| Punschlied. Im Norden zu singen D 253 | |
| Trinklied (Freunde, sammelt euch im Kreise) D 75 | |
| Zum Punsche (Woget brausend, Harmonien) D 492 | |
| Naturgenuss D 422 | |
| Die Einsiedelei D 337 | |
| Der Geistertanz D 494 | |
| Dreifach ist der Schritt der Zeit, Spruch des Konfuzius D 69 | |
| Das Grab D 330 | |
| Totengräberlied D 38 | |
| Sanctus D 56 | |
| Hymnus an den heiligen Geist D 948 | |
| Gott meine Zuversicht (Psalm 23) D 706 | |
| Salve Regina D 811 | |
| Alleluja D 71 A | |
| Glaube, Hoffnung und Liebe (Gott, lass die Glocke glücklich steigen) D 954 | |
| | |
The Complete Choral Works for Male Voices by Franz Schubert, Vol. 4
Camerata Musica Limburg
Jan Schumacher, Conductor
Christoph Prégardien, Tenor
Tilman Hoppstock, Guitar
Andreas Frese, Piano
Andreas Weller, Tenor
Sebastian Kohlhepp, tenor
Jens Hamann, Baritone
Adolph Seidel, bass


In stock, shipping in 1-2 days.

We offer free shipping!

Please read our General Terms and Conditions and Privacy Statement carefully.








Finally, it is here: The continuation of the great musical adventure that the Camerata Musica Limburg is currently undertaking and for which we had to wait a whole year. The elite ensemble sings Franz Schubert's complete works for male choir with GENUIN. Three volumes have already been released. Once again, Jan Schumacher and his men will be joined by renowned musicians such as tenor Christoph Prégardien. The tonal palette of the clear and confidently intoned male voices ranges from the most gentle pleading of Gesangs der Geister to the vibrant radiance of a Schiller's Punschlied.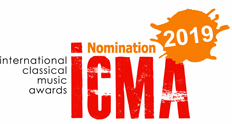 Deutschlandfunk Kultur
CD-Tipp on 22nd of October