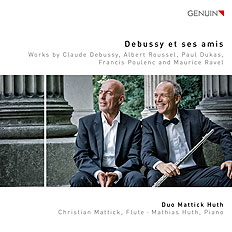 GEN 18600
EAN: 4260036256000
2.3.2018

| | |
| --- | --- |
| Claude Debussy (1862–1918) | |
| Deux arabesques, L. 66 (1891) | |
| Claude Debussy | |
| Suite bergamasque, L. 75 (1890) | |
| Albert Roussel (1869–1937) | |
| Joueurs de flûte, Op. 27 (1924) | |
| Claude Debussy | |
| Syrinx for solo flute, L. 129 (1913) | |
| Paul Dukas (1865–1935) | |
| La plainte, au loin, du faune … (1920) | |
| Francis Poulenc (1899–1963) | |
| Sonate pour flûte et piano, FP 164 (1957) | |
| Maurice Ravel (1875–1937) | |
| Pièce en forme de Habanera (1907) | |
| | |
Works by Claude Debussy, Albert Roussel, Paul Dukas, Francis Poulenc and Maurice Ravel

In stock, shipping in 1-2 days.

We offer free shipping!

Please read our General Terms and Conditions and Privacy Statement carefully.








The flute player Christian Mattick and the pianist Mathias Huth offer us charming, nuanced and weightless additions to the repertoire. On his first GENUIN CD, the duo plays French music of the 20th century ranging from Impressionism to early Modernism: original works for flute and piano, as well as arrangements of piano pieces and orchestral music. Mattick and Huth encounter the floating sound of Ravel's Habanera, the exotic flair of Albert Roussel's divine incantations, and the seminal musical cascades of Claude Debussy: fascinating!