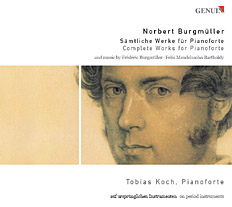 GEN 86061
EAN: 4260036250619
23.6.2006

| | |
| --- | --- |
| Norbert Burgmüller (1810—36) | |
| Klaviersonate f-Moll Op.8 / 1826 | |
| Allegro molto | |
| Romanze. Andante | |
| Finale. Allegro molto e con fuoco | |
| Norbert Burgmüller | |
| Walzer Es-Dur WoO / 1827 | |
| Norbert Burgmüller | |
| Mazurka Es-Dur WoO | |
| Norbert Burgmüller | |
| Rhapsodie h-Moll Op. 13 / 1834 | |
| Norbert Burgmüller | |
| Polonaise F-Dur Op. 16 / 1832 | |
| Felix Mendelssohn Bartholdy (1809—1847) | |
| Marcia funebre in a-Moll Op. 103 | |
| Frédéric Burgmüller (1806—74) | |
| Rêveries fantastiques Op. 41 | |
| Frédéric Burgmüller | |
| 25 Etudes pour le Pianof. op. 100 | |
| Nr. 2: L'arabesque | |
| No. 5: Innocence | |
| No. 15: Ballade | |
| Frédéric Burgmüller | |
| Valse brillante Op. 106 | |
| | |
Complete Works for Pianoforte
on Period Instruments

In stock, shipping in 1-2 days.

We offer free shipping!

Please read our General Terms and Conditions and Privacy Statement carefully.


A great discovery—in memory of Norbert Burgmüller

Schumann lamented his untimely death, Brahms held his works in high esteem—born in 1810, Romantic composer Norbert Burgmüller died when only 26 years, even more youthful than the early deaths of Mendelssohn, Mozart or Schubert. None of his compositions were published during his lifetime; the missed treasures these must have been to his musical contemporaries can now be discovered on Genuin CD in a recording of his complete works for piano, complemented by works of Mendelssohn-Bartholdy and Norbert Burgmüller's brother Frédéric Burgmüller. Tobias Koch plays with impeccable pianism and with an unwavering tonal sense on instruments which are no easy task to tame. The instruments in question date from Burgmüller's lifetime and feature a hovering, colorful palette of sound rich in harmonics, perfectly evoking the atmosphere of E.T.A. Hoffmann's "supernatural music." A real discovery!

"With a touch full of feeling, Koch probes deep into the works, revealing the great complexity of Burgmüller's compositions... In Norbert Burgmüller's Sonata, he impresses the listener with a highly refined interpretation vacillating between a longingly forward-urging quality and profound reflection."
Klassik.com, Online

"Tobias Koch plays the music of both brothers with equal assurance, different as their demands are. All in all, this is a quite outstanding CD. Norbert Burgmüller's work is fascinating both in itself and for its place in musical history; performed and recorded as exceptionally as it is here, there is an almost revelatory quality about the results." Read more on musicweb-international!