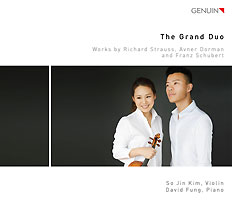 | | |
| --- | --- |
| Richard Strauss (1864–1949) | |
| Violin Sonata in E-flat major, Op. 18 (1887–1888) | |
| Allegro, ma non troppo | |
| Improvisation: Andante cantabile | |
| Finale: Andante-Allegro | |
| Avner Dorman (*1975) | |
| Sonata No. 2 for Violin and Piano (2008) world premiere recording | |
| Adagio religioso | |
| Prestissimo -adagio con rubato - prestissimo | |
| Franz Schubert (1797–1828) | |
| Violin Sonata in A major, D. 574 (1817) | |
| Allegro moderato | |
| Scherzo. Presto | |
| Andantino | |
| Allegro vivace | |
| | |
Works by Richard Strauss, Avner Dorman and Franz Schubert
So Jin Kim, Violin
David Fung, Piano


In stock, shipping on January 8th.

We offer free shipping worldwide!
Please read our General Terms and Conditions and Privacy Statement carefully.








A young artist duo who, with all their youthful exuberance and verve, still succeed in conveying a sense of consummate mastery and calm: when we hear the GENUIN debut release of So Jin Kim (violin) and David Fung (piano), we're guaranteed to sit up and take notice. Two of the truly great works of the violin and piano literature and a world premiere recording: a choice that bespeaks a certain self-confidence, which is confirmed by every note of this thrilling recording. With Richard Strauss's early violin sonata, Schubert's Grand Duo in A major, and a brilliant work by Israeli composer Avner Dorman, we can simply sit back and enjoy as the sparks fly from the loudspeakers!