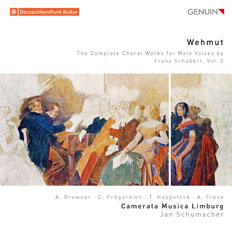 GEN 17474
EAN: 4260036254747
6.10.2017

| | |
| --- | --- |
| Franz Schubert (1797–1828) | |
| The Complete Choral Works for Male Voices by Franz Schubert, Vol. 3 | |
| Die Nachtigall (Bescheiden verborgen) D 724 | |
| Die zwei Tugendwege D71 | |
| Flucht D 825 B | |
| Lacrimoso son io D 131 | |
| Wehmut (Die Abendglocke tönet) D 825 | |
| Leise, leise lasst uns singen D 635 | |
| Ständchen (Zögernd, leise) D 920 | |
| Frühlingslied (Geöffnet sind des Winters Riegel) D 914 | |
| D 407: Nr. 1a | |
| D 407: Nr. 2 | |
| D 407: Nr. 3 | |
| D 407: Nr. 1b | |
| Geist der Liebe (Der Abend schleiert Flur und Hain) D 747 | |
| Erinnerungen D 424 | |
| Widerhall D 428 | |
| Andenken D 423 | |
| Ewige Liebe D 825 A | |
| Dreifach ist der Schritt der Zeit, Spruch des Konfuzius D 43 | |
| Ruhe, schönstes Glück der Erde D 657 | |
| Das Dörfchen D 598 | |
| | |
The Complete Choral Works for Male Voices by Franz Schubert, Vol. 3
Camerata Musica Limburg
Jan Schumacher, Conductor
Christoph Prégardien, Tenor
Alison Browner, Mezzo-soprano
Andreas Frese, Piano
Tilman Hoppstock, Guitar


In stock, shipping on January 4th.

We offer free shipping!

Please read our General Terms and Conditions and Privacy Statement carefully.








It is finally here—part three of the complete recordings of Schubert's works for male chorus, a project which the fabulous Camerata Musica Limburg has embarked upon on the GENUIN label. Once again, high-profile soloists such as Alison Browner and Christoph Prégardien are rushing in to support the men singing under the direction of Jan Schumacher. There is certainly no better way to weep than with the fantastic music of Schubert in the outstanding performance of this perfectly tuned ensemble. With Schubert, the distance between the lightest pieces d'occasion to works of deadly seriousness is not far. An outstanding CD—an outstanding series!