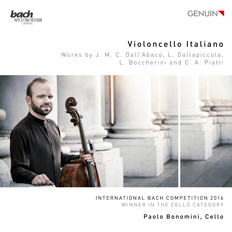 GEN 17468
EAN: 4260036254686
2.6.2017

| | |
| --- | --- |
| Joseph Marie Clément Dall'Abaco (1710–1805) | |
| Capricci for Violoncello Solo | |
| No. 1 | |
| No. 3 | |
| No. 6 | |
| No. 8 | |
| Luigi Dallapiccola (1904–1975) | |
| Ciaccona, Intermezzo e Adagio for Violoncello Solo | |
| Ciaccona | |
| Intermezzo | |
| Adagio | |
| Luigi Boccherini (1743–1805) | |
| Sonata for Violoncello and Basso Continuo G.17 in C major | |
| Allegro | |
| Largo assai | |
| Rondò allegro | |
| Carlo Alfredo Piatti (1822–1901) | |
| Sérénade italienne, Op.17 | |
| Allegretto, Poco più mosso, a Tempo | |
| Carlo Alfredo Piatti | |
| Siciliana, Op. 19 | |
| Mosso | |
| Carlo Alfredo Piatti | |
| Tarantella, Op. 23 | |
| Allegro | |
| Carlo Alfredo Piatti | |
| Canzonetta | |
| Mosso, con passione | |
| | |
Works by J. M. Dall'Abaco, L. Dallapiccola, L. Boccherini and C. A. Piatti
Paolo Bonomini, Cello
Gast/guest:
Magdalena Bojanowicz, Cello
Naoko Sonoda, Piano


In stock, shipping in 1-2 days.

We offer free shipping!

Please read our General Terms and Conditions and Privacy Statement carefully.








Hailing from Brescia, cellist Paolo Bonomini offers a survey of 200 years of musical Italy on his GENUIN debut release. The First Prizewinner at the 2016 Leipzig Bach Competition performs works by Joseph Dall'Abaco, Luigi Boccherini, Alfredo Piatti, and Luigi Dallapiccola. In terms of the program, we could hardly imagine a more rich and varied overview, and the young, internationally-successful soloist's playing more than fulfills our expectations – from his lean and buoyant sound in the playful and exuberant Baroque works, to his crystal-clear articulation and bold risk-taking in the modern selections. A brilliant and highly promising debut!