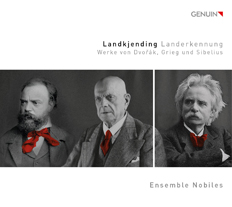 GEN 17469
EAN: 4260036254693
5.5.2017

| | |
| --- | --- |
| Antonín Dvorák (1841–1904) | |
| Drei Lieder für Männerchor op. 43 (1877) | |
| Žal | |
| Divná voda | |
| Deve c háji | |
| Edvard Grieg (1843–1907) | |
| Norsk Krigssang, EG 160, Nr. 1 | |
| Edvard Grieg (1843–1907) | |
| Den sildige Rose, EG 160, Nr. 4 | |
| Edvard Grieg (1843–1907) | |
| Aftenstemning, EG 162, Nr. 1 | |
| Edvard Grieg (1843–1907) | |
| Min dejligste Tanke, EG 169, Nr. 1 | |
| Edvard Grieg (1843–1907) | |
| Fredriksborg, EG 160, Nr. 2 | |
| Antonín Dvorák (1841–1904) | |
| Fünf Chöre für Männerstimmen op. 27 (1878) | |
| Nr. 2 Pomorané | |
| Nr. 4 Ztracená ovecka | |
| Nr. 5 Hostina | |
| Jean Sibelius (1865 –1957) | |
| Humoreski op. 108, Nr. 1 | |
| Jean Sibelius (1865 –1957) | |
| Rakastava, JS 160A | |
| Jean Sibelius (1865 –1957) | |
| Sydämeni laulu op. 18, Nr. 6 | |
| Jean Sibelius (1865 –1957) | |
| Sortunut ääni op. 18, Nr. 1 | |
| Jean Sibelius (1865 –1957) | |
| Finlandia-hymni op. 26 | |
| Jean Sibelius (1865 –1957) | |
| Isänmaalle, JS 98B | |
| Edvard Grieg (1843–1907) | |
| Landkjending op.31 | |
| | |
Landkjending / Recognition of Land
Works by Antonín Dvorák, Edvard Grieg, Jean Sibelius
Ensemble Nobiles
Gast/guest:
Alexander Schmalcz, Piano
Sung-Ah Park, Piano


In stock, shipping in 1-2 days.

We offer free shipping!

Please read our General Terms and Conditions and Privacy Statement carefully.








National identity in music: this is the theme of the third GENUIN release by the splendid vocal formation Ensemble Nobiles. The program features rugged, beautiful, and truly unique works from Norway, Bohemia, and Finland. The composers Antonνn Dvořαk, Edvard Grieg, and Jean Sibelius are the fathers of the musical culture of their respective countries, each with his own unmistakable language that suffuses every note of this refined and sophisticated production. For the first time, the five singers from Leipzig are accompanied by two world-class partners on the piano in a number of selections on the CD. Rare pleasures sung to vocal perfection – a true discovery!