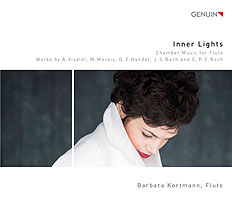 GEN 17457
EAN: 4260036254570
9.1.2017

| | |
| --- | --- |
| Antonio Vivaldi (1678–1741) | |
| Concerto in D major, Op. 10, No. 3 "Il Cardellino" | |
| Marin Marais (1656–1728) | |
| Les Folies d'Espagne | |
| George Frideric Handel (1685–1759) | |
| "Meine Seele hört im Sehen", HWV 207 | |
| from Neun Deutsche Arien, HWV 202–210 | |
| Antonio Vivaldi | |
| Concerto in G minor, Op. 10, No. 2 "La Notte" | |
| Johann Sebastian Bach (1685–1750) | |
| Trio Sonata in C minor | |
| from The Musical Offering, BWV 1079 | |
| Carl Philipp Emanuel Bach (1714–1788) | |
| Sonata in G minor for Flute and Harpsichord, BWV 1020 | |
| George Frideric Handel | |
| "Süße Stille, sanfte Quelle", HWV 205 | |
| from Neun Deutsche Arien, HWV 202–210 | |
| | |
Chamber Music for Flute by A. Vivaldi, M. Marais, G. F. Handel, J. S. Bach and C. P. E. Bach
Barbara Kortmann, Flute
Sabine Erdmann, Harpsichord


In stock, shipping in 1-2 days.

We offer free shipping!

Please read our General Terms and Conditions and Privacy Statement carefully.


Guests: Hellen Weiß, Kerstin Linder-Dewan, Julia Kursawe, Benjamin Wand, Inka Döring and Nikolaus Schlierf



With her enchanting, radiant flute sound, Barbara Kortmann takes us on on a journey through truly exquisite Baroque music on her GENUIN debut release. Joining with spirited partners from the early music scene, the multiple award-winning musician (Aeolus International Competition for Wind Instruments, 2016 International Sir James Galway Flute Festival...) awakens works by Antonio Vivaldi, Johann Sebastian Bach, Marin Marais, and other composers to their full potential. Passionately, flawlessly, and with total commitment, the musicians perform concertos and chamber music, original works and arrangements.


Global Music Awards / September 2017
In September 2017 "Inner Lights" received the highest recognition at the Global Music Awards and was a three times Gold Medal winner in the categorys "classical flautist", "instrumentalist" and "album".

The Flute View
"Ms. Kortman is an extraordinary player, whose fluid technique serves her musical mastery and unique, beautiful interpretations."
Review by Barbara Siesel, The Flute View, New York, March 2017

Fono Forum
"... a wonderful and highly sensitive musical interpretation."
Review by Holger Arnold in Fono Forum, May 2017

Pizzicato
"... especially impressive was the liveliness she brought to the cantobile as well as the beautifully nurtured, if lively and vibrant, tones."
Review by Remy Franck, Pizzicato, March 12, 2017

Wiener Zeitung
"It is a sheer wonder what this Munich-born flutist extracts from the works of Vivaldi, Marais, Handel and Bach: virtuose, exciting; her trilling and runs slicing through the shimmering atmosphere like a silver arrow."
Review by Edwin Baumgartner, Wiener Zeitung, February 15, 2017

hr2 Kultur
"When the flute sings like a bird … Whether Barbara Kortmann with her flute enters a bird song contest together with a violin, or whether she really begins to let her flute sing in two George Friedrich Handel arias, the quality that entrances is the special beauty of her tones. 'Sweet Silence, Soft Source of Calm Tranquility,' is how one of Handel's German arias begins. Tranquility is naturally all the more impressive if juxtaposed against an uproar … it was from this contrast that Marin Marais developed the variations to his renowned Folia theme—and gives Barbara Kortmann the opportunity to impress with her virtuosity."
CD recommendation of Martin Grunenberg on "hr2 Kultur"