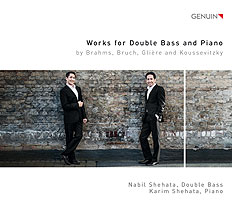 GEN 17448
EAN: 4260036254488
9.1.2017

| | |
| --- | --- |
| Reinhold M. Glière (1875–1956) | |
| Deux Pièces pour contrebasse et piano, Op. 32 (1908) | |
| Reinhold M. Glière | |
| Deux Morceaux pour contrebasse et piano, Op. 9 (c. 1902) | |
| Serge A. Koussevitzky (1874–1951) | |
| Chanson triste, Op. 2 for Double Bass and Piano (1906) | |
| Max Bruch (1838–1920) | |
| Kol Nidrei, Op. 47 for Cello and Piano (1880) | |
| Arr. for Double Bass | |
| Serge A. Koussevitzky | |
| Valse miniature, Op. 1 No. 2 for Double Bass and Piano (1907) | |
| Johannes Brahms (1833–1897) | |
| Sonata No. 1 in E minor, Op. 38 for Cello and Piano (1862–1865) | |
| Arr. for Double Bass | |
| | |
Works for Double Bass and Piano
by Brahms, Bruch, Glière and Koussevitzky
Nabil Shehata, Double Bass
Karim Shehata, Piano


In stock, shipping in 1-2 days.

We offer free shipping!

Please read our General Terms and Conditions and Privacy Statement carefully.




The double bass is so much more than just an orchestral foundation when it is played by Nabil Shehata: the winner of the 2003 ARD Music Competition and professor at the Munich University of Music is one of his instrument's most renowned virtuosos. But Nabil Shehata is a lot more than that, as he proves in his GENUIN debut release: a full-blooded musician who knows how to best bring out the unique colors and qualities of his instrument – whether in original works by Glière and Koussevitzky or arrangements of cello works by Bruch and Brahms. Both rugged and sweet-sounding, brilliant and down-to-earth – for lovers of distinctive sound!

The Strad
The brothers Shehata – Karim's sensitive contribution at the piano deserves special praise – take broad tempos but sustain them with no slackening of tension. Aided by a vivid recording, Nabil's clear articulation makes even the notorious final fugue easy to follow.
Please have a look into the entire review in The Strad!