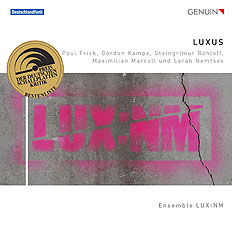 GEN 16443
EAN: 4260036254433
4.11.2016

| | |
| --- | --- |
| Paul Frick (*1979) | |
| Metal Zone (2006/2014) | |
| für Baritonsaxophon, Posaune, Akkordeon, Klavier und 2 Violoncelli | |
| Gordon Kampe (*1976) | |
| Füchse/Messer (Hommage an Akira Kurosawas "Yume") (2014) | |
| für Sopran-/Baritonsaxophon, Posaune, Akkordeon, Klavier, Violoncello und Elektronik | |
| Steingrímur Rohloff (*1971) | |
| Close Relatives (2015) | |
| für Soran-/Altsaxophon, Posaune, Akkordeon, Klavier und Violoncello | |
| Maximilian Marcoll (*1981) | |
| Drill&Sander (2015) | |
| für Altposaune, Ensemble und Elektronik (Sopransaxophon, Akkordeon, Klavier, Violine, Cello et al | |
| Sarah Nemtsov (*1980) | |
| JOURNAL (2015) | |
| für 5 Instrumente mit Elektronik | |
| | |
Works by Paul Frick, Gordon Kampe, Steingrímur Rohloff, Maximilian Marcoll and Sarah Nemtsov

In stock, shipping in 1-2 days.

We offer free shipping!

Please read our General Terms and Conditions and Privacy Statement carefully.



As guests: Biliana Voutchkova, Violin and Maximilian Marcoll, Black Box



Luxurious from the very first note – there's no better description of this debut release by the ensemble LUX:NM, a young formation dedicated above all to new music. And here new music means sumptuous sounds of brass, offbeat acoustic dramas and crackling electronics that bring our speakers to the limits. The commissioned works by Paul Frick, Gordon Kampe, and others are magnificently played, each of them presented here as a world premiere recording. Which only whets our appetite for more luxurious musical treats.






Nominated for the 2017 German Record Critics' Award

Pizzicato / 3.2017
"Four contemporary pieces and one newly arranged composition are bring a lot of energy and rhythm. The young ensemble LUX:NM presents these works of composer-friends with dedicated enthusiasm. Well worth listening!" Read the Rezension von Uwe Krussch auf Pizzicato.lu

Polskie Radio 2
LUXUS von LUX:NM war CD Tipp in der Sendung "Nocturn", moderiert von Ewa Szczecinska am 10.11.16, 23.05 Uhr.