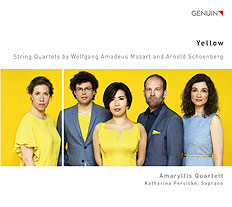 GEN 16438
EAN: 4260036254389
7.10.2016

| | |
| --- | --- |
| CD 1: Wolfgang Amadeus Mozart (1756–1791) | |
| String Quartet No. 17 in B-flat major, K. 458, "The Hunt" (1784) | |
| CD 2: Arnold Schoenberg (1874–1951) | |
| String Quartet No. 2, Op. 10 (1907/08) | |
| CD 2: Wolfgang Amadeus Mozart | |
| String Quartet No. 19 in C major, K. 465, "Dissonance Quartet" (1785) | |
| | |
String Quartets by Wolfgang Amadeus Mozart and Arnold Schoenberg


2 CDs for the price of 1 CD
Amaryllis Quartett
Katharina Persicke, Soprano


In stock, shipping in 1-2 days.

We offer free shipping!

Please read our General Terms and Conditions and Privacy Statement carefully.




With Yellow, the internationally acclaimed Amaryllis Quartett is rounding out its five-CD GENUIN series that kicked off with ECHO Klassik Award-winning White. And like in the first release, the phenomenal ensemble is performing music from the First and Second Viennese School, this time showcasing Mozart and Schoenberg. Joining the project are exceptional young soprano Katharina Persicke and ARD prizewinner Tomoko Akasaka, the ensemble's new violist. In both the first and second cast, we are treated to immaculate, intelligent, inspiring quartet playing that makes new works seem familiar and familiar works new!