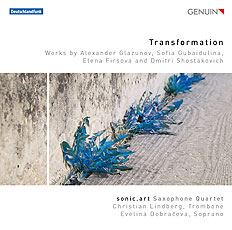 GEN 16431
EAN: 4260036254310
7.10.2016

| | |
| --- | --- |
| Alexander Glazunov (1865–1936) | |
| Quartet, Op. 109 (1932) | |
| Sofia Gubaidulina (*1931) | |
| Transformation (2004) | |
| Elena Firsova (*1950) | |
| Night (1978) | |
| Dmitri Shostakovich (1906–1975) | |
| Two Pieces for String Quartet (1931) | |
| | |
Works by Alexander Glazunov, Sofia Gubaidulina, Elena Firsova and Dmitri Shostakovich
sonic.art, Saxophon quartet
Christian Lindberg, Trombone
Evelina Dobraceva, Soprano


In stock, shipping in 1-2 days.

We offer free shipping!

Please read our General Terms and Conditions and Privacy Statement carefully.




Already the third GENUIN release by the phenomenal sonic.art saxophone quartet (a prizewinner at Germany's National Music Competition), this recording features an all-Russian program. But we'd be hard-pressed to find a more diverse collection of pieces, ranging from Glazunov's Saxophone Quartet, probably the genre's most important work, to Elena Firsova's ethereal sonorities and dramatic, strident music by Sofia Gubaidulina and Dmitri Shostakovich. As always, sonic.art plays at a staggering level, and their musical partners Christian Lindberg (sensational trombonist and 2016 Classical Music Award winner) and Evelina Dobračeva (sublime soprano) add even more passion to the performances.


sonic.art is:
Ruth Velten - soprano
Alexander Doroshkevich - alto
Adrian Tully - tenor
Annegret Schmiedl - baritone





Klassik.com
"Makellos im Ansatz und Spiel, versteht sich das Saxophon-Quartett sonic.art auf zeitgenössische Musik voller Situationskomik." Read the complete review by Christiane Franke from 08. August 2020 here on klassik.com.