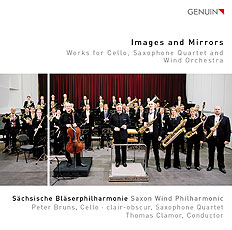 | | |
| --- | --- |
| Paul Hindemith (1895-1963) | |
| March | |
| from Symphonic Metamorphosis by Carl Maria von Weber | |
| Friedrich Gulda (1930-2000) | |
| Concerto for Cello and Wind Orchestra | |
| Ouverture | |
| Idylle | |
| Cadenza | |
| Menuett | |
| Finale alla marcia | |
| Heitor Villa-Lobos (1887–1959) | |
| Ária (Cantilena) | |
| from Bachianas Brasileiras No. 5, W389-391 | |
| Bart Picqueur (*1972) | |
| Jeu de cartes (World Premiere Recording) | |
| Queen of Hearts | |
| Jack of Spades | |
| 10 of Diamonds | |
| The Fool | |
| | |
Works for Cello, Saxophone Quartet and Wind Orchestra
Sächsische Bläserphilharmonie
Peter Bruns, Violoncello
clair-obscur, Saxophone Quartet
Thomas Clamor, Conductor


In stock, shipping on January 4th.

Shipping only within the EU, UK, Switzerland, Norway
We offer free shipping!

Please read our General Terms and Conditions and Privacy Statement carefully.




The Saxon Wind Philharmonic has long been delighting, surprising, and thrilling us with their GENUIN CDs, and this is already the seventh time. Under the direction of Thomas Clamor, Germany's only professional civilian wind orchestra presents multilayered music that is full of depth and charm: A march by Hindemith, probably Villa-Lobos' most beautiful cantilena, the wildest cello concerto in the repertoire (by Friedrich Gulda), and the world premiere recording of Bart Piqueur's "Jeu de cartes" for saxophone quartet and orchestra. And not only here do the musicians give free rein to their virtuosity and magnificent sound – seventh heaven for wind enthusiasts!