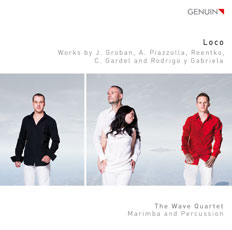 GEN 16403
EAN: 4260036254037
8.1.2016

| | |
| --- | --- |
| Josh Groban (*1981) | |
| The Wandering Kind | |
| Astor Piazzolla (1921–1992) | |
| La Muerte del Ángel | |
| Reentko (*1979) | |
| Danza non Danza | |
| Astor Piazzolla | |
| Prologue (Tango Apasionado) | |
| Carlos Gardel (1890–1935) | |
| Por una Cabeza | |
| Astor Piazzolla | |
| Tanguedia I | |
| Astor Piazzolla | |
| Milonga del Ángel | |
| Astor Piazzolla | |
| Libertango | |
| Astor Piazzolla | |
| Oblivion | |
| Rodrigo y Gabriela | |
| Tamacun | |
| Rodrigo y Gabriela | |
| Juan Loco | |
| | |
Works by Josh Groban, Astor Piazzolla, Reentko, Carlos Gardel and Rodrigo y Gabriela
The Wave Quartet, Marimba and Percussion


In stock, shipping in 1-2 days.

We offer free shipping!

Please read our General Terms and Conditions and Privacy Statement carefully.


From the slightest sound of a raindrop to the roar of a waterfall: The Wave Quartet unleashes the force of four great marimbas to pay tribute to the tango reformer Astor Piazzolla, let the Grand Seigneur of the tango Carlos Gardel sing and allow us to breathe the Mexican mountain air of Rodrigo y Gabriela... In short, the four award-winning musicians (Christoph Sietzen was the third prize winner of the ARD competition in 2014) let the mallets fly in their new GENUIN CD so that one cannot help but dance with them … As one says in Spanish: "Loco" – crazy!






Pizzicato
"A superb musical experience!"
Review on the magazine Pizzicato by Remy Franck, 11.1.2016

American Record Guide
"(...) the warm, earthy tone of well-played marimbas, I find the program highly enjoyable and approachable. Their arrangement of pop singer Josh Groban's 'Wandering Kind' is particularly well done."
Review on the American Record Guide by Lamper, July/August 2016