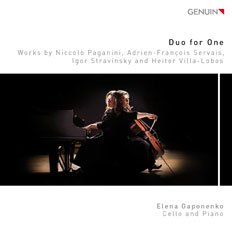 | | |
| --- | --- |
| Igor Stravinsky (1882–1971) | |
| Suite Italienne | |
| Heitor Villa-Lobos (1887–1959) | |
| A prole do Bebê No. 1 (The Baby's Family) | |
| Adrien-François Servais (1807–1866) | |
| Fantasia "Souvenir de St. Pétersbourg", Op. 15 | |
| Niccolò Paganini (1782–1840) | |
| Variations on One String (Mose-Fantasia) | |
| Igor Stravinsky | |
| Trois Mouvements de Petrouchka | |
| | |
Works by Niccolò Paganini, Adrien-François Servais, Igor Stravinsky and Heitor Villa-Lobos
Elena Gaponenko, Cello and Piano


In stock, shipping in 1-2 days.

Shipping only within the EU, UK, Switzerland, Norway
We offer free shipping!

Please read our General Terms and Conditions and Privacy Statement carefully.


The fusion of the two artists in a duo to a perfect unity – in the debut CD of Elena Gaponenko, this is not just a wonderful illusion but a reality. The talented musician recorded both the violoncello and piano parts of the works by Stravinsky, Villa-Lobos, Paganini and Servais. With the lively chamber music found in this recording, we travel from the Shrovetide fair in Petrushka to the Italian commedia dell'arte of Pulcinella and over to the tender Brazilian miniatures for the piano.