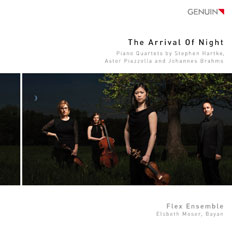 GEN 14325
EAN: 4260036253252
7.11.2014

| | |
| --- | --- |
| Stephen Hartke (*1952) | |
| The King Of The Sun (1988) | |
| Personages in the night guided by the phosphorescent tracks of snails | |
| Dutch interior | |
| Dancer listening to the organ in a Gothic cathedral | |
| Interlude | |
| The flames of the sun make the desert flower hysterical | |
| Personages and birds rejoicing at the arrival of night | |
| Astor Piazzolla (1921-1992) | |
| Tango del Diablo | |
| Astor Piazzolla | |
| Vayamos al Diablo | |
| Astor Piazzolla | |
| Romance del Diablo | |
| Johannes Brahms (1833-1897) | |
| Piano Quartet No. 3 in C minor, Op. 60 | |
| Allegro non troppo | |
| Scherzo: Allegro | |
| Andante | |
| Finale: Allegro comodo | |
| | |
Piano Quartets by Stephen Hartke, Astor Piazzolla and Johannes Brahms
Flex Ensemble
Elsbeth Moser, Bayan


In stock, shipping in 1-2 days.

We offer free shipping!

Please read our General Terms and Conditions and Privacy Statement carefully.


Lights off – CD player on: set off upon the phosphoresced traces that snails leave in the night. Razor-sharp string chords, oscillating sound images and groovy piano rhythms. This is how the Flex Ensemble begins its first GENUIN CD and Stephen Hartke's magnificent piano quartet – what a debut! Embark on a journey with the four exceptional musicians, through the darkness: virtuoso, strongly expressive, undaunted. Hartke, Piazzolla, Brahms – it is worth it to be curious about each and every piece!

This CD is the prize of the Schumann Chamber Music Competition in 2013, which is sponsored by the Commerzbank Foundation and the Schumann Society.