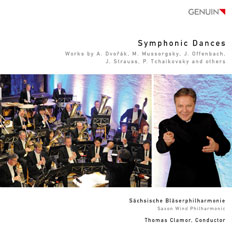 GEN 14307
EAN: 4260036253078
2.5.2014

| | |
| --- | --- |
| Antonin Dvorák (1841–1904) | |
| Slavonic Dance No. 8 | |
| Antonin Dvorák (1841–1904) | |
| Slavonic Dance No. 2 | |
| Johann Strauss (1825–1899) | |
| Tritsch Tratsch Polka | |
| Jacques Offenbach (1819–1880) | |
| Can-Can | |
| Johann Strauss (1825–1899) | |
| Perpetuum Mobile | |
| Dámaso Pérez Prado (1916–1989) | |
| Mambo No. 8 | |
| Lilia Prado (*1950) | |
| Mambo Que Rico | |
| Pedro Elías Gutiérrez (1870–1954) | |
| Alma Llanera | |
| Alberto Ginastera (1916–1983) | |
| Danza Final de Malambo | |
| Modest Mussorgsky (1839-1881) | |
| Ballet of the Unhatched Chicks | |
| Vittorio Monti (1886–1922) | |
| Csárdás | |
| Johannes Brahms (1833–1897) | |
| Hungarian Dance No. 5 | |
| Peter Tchaikovsky (1840–1893) | |
| Excerpts from the Nutcracker Suite | |
| March | |
| Chinese Dance | |
| Dance of the Reed Pipes | |
| Trepak | |
| Aram Khachaturian (1903–1978) | |
| Sabre Dance | |
| Dmitri Shostakovich (1906–1975) | |
| Polka | |
| Igor Stravinsky (1882–1971) | |
| From the Firebird Suite | |
| Round Dance of the Princesses | |
| Infernal Dance of Kastchei | |
| | |
Works by Dvorák, Mussorgsky, Offenbach, Strauss, Tchaikovsky and others
Sächsische Bläserphilharmonie
Thomas Clamor, Conductor


In stock, shipping in 1-2 days.

We offer free shipping!

Please read our General Terms and Conditions and Privacy Statement carefully.


Hold on tight: otherwise your feet will get the better of you! The Saxon Wind Philharmonic, the only German cultural orchestra consisting exclusively of wind instruments, has come out with its new GENUIN CD. And what a CD it is, this fourth Leipzig production of the renowned ensemble. They dance and swing and groove at the highest level of wind-playing – going through all the genres, all centuries, once around the whole world. The Nutcracker meets the French can-can girls and the Firebird dances a round dance with a group of Viennese girls: Mussorgsky and Tchaikovsky, Offenbach and Strauss, Dvořák and Brahms. Will you have this dance?