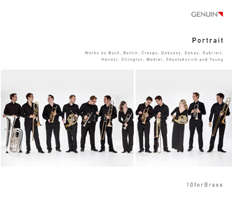 GEN 13294
EAN: 4260036252941
1.6.2013

| | |
| --- | --- |
| Paul Dukas (1865-1935) | |
| Fanfare pour précéder "La Péri" | |
| Giovanni Gabrieli (c.1554-1612) | |
| Canzon XIV | |
| Johann Sebastian Bach (1685-1750) | |
| Jesus bleibet meine Freude | |
| Georg Friedrich Händel (1685-1759) | |
| Arrival of the Queen of Sheba | |
| Gustav Mahler (1860-1911) | |
| Ich bin der Welt abhanden gekommen | |
| Enrique Crespo (*1941) | |
| Bruckner Etüde für das tiefe Blech | |
| Dmitry Shostakovich (1906-1975) | |
| Festive Overture | |
| Claude Debussy (1862-1918) | |
| La fille aux cheveux de lin | |
| Victor Young (1900-1956) | |
| Stella by Starlight | |
| Edward Kennedy "Duke" Ellington (1899-1974) | |
| Caravan | |
| Irving Berlin (1888-1989 | |
| Puttin´ on the Ritz | |
| | |
Works by J. S. Bach, I. Berlin, E. Crespo, C. Debussy, P. Dukas, G. Gabrieli, G. F. Händel, D. Ellington, G. Mahler, D. Shostakovich and V. Young

In stock, shipping in 1-2 days.

We offer free shipping!

Please read our General Terms and Conditions and Privacy Statement carefully.



What could be warmer, rounder, more illuminating, fuller – to put it briefly: more beautiful! – than a large brass ensemble. This is the impression one has from the GENUIN debut CD of 10forBrass, an ensemble that has won a number of prizes. From the first bars until the end, it is filled with wonderful arrangements! These young brass players, wildly popular with the public, really let themselves go: from the Renaissance to jazz, from the Dukas Fanfare to the Ritz in New York. And they flatter our ears: from Debussy's tender sounds to the enraptured Mahler lied. A magnificent disc, and not only for brass fans!