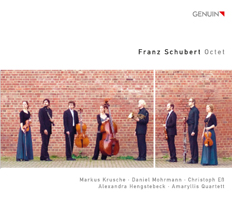 GEN 13269
EAN: 4260036252699
1.6.2013

| | |
| --- | --- |
| Franz Schubert (1797-1828) | |
| Octet in F major for Clarinet, Bassoon, Horn & Strings, D 803 (1824) | |
| Adagio - Allegro - Più allegro | |
| Adagio | |
| Scherzo: Allegro vivace - Trio | |
| Andante con variazioni | |
| Menuetto: Allegretto - Trio | |
| Andante molto - Allegro - Andante molto - Allegro molto | |
| | |
Franz Schubert: Octet in F major, D 803
Markus Krusche, Clarinet
Daniel Mohrmann, Bassoon
Christoph Eß, Horn
Alexandra Hengstebeck, Double Bass
Amaryllis Quartett


In stock, shipping in 1-2 days.

We offer free shipping!

Please read our General Terms and Conditions and Privacy Statement carefully.


On this new GENUIN CD, one can experience, with admiration, how one of the most important works in chamber-music literature lives and breathes when it has already been awakened to sonorous life at a considerable number of concerts. Laureates of the German Music Competition play Schubert's great Octet of 1827, and these young musicians, including the Echo Klassik prize winners – the Amaryllis Quartet and the Bamberg solo hornist Christoph Eß – perform at the very highest level. Each phrase has been well thought out and deeply felt, cheerful passages swing and dance, episodes full of despondency make us shiver. This is almost a little symphony, this chamber music of almost larger-than-life dimensions!









ResMusica
"On y sent une aisance totale et une grande aptitude au dialogue musical. (...) cette nouvelle interprétation peut revendiquer une place parmi les très bonnes versions de l'œuvre."
Review on the French magazine ResMusica, 8 May 2014, Olivier Mabille

Musica
"una candida musicalità"
Review on the Italian magazine Musica by Massimo Viazzo