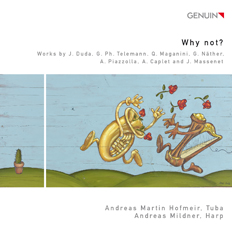 GEN 13278
EAN: 4260036252781
1.6.2013

| | |
| --- | --- |
| Jörg Duda (*1968) | |
| Fantasia II, Op. 29/2 (2001) | |
| Georg Philipp Telemann (1681-1767) | |
| Fantasia for Flute No. 2 in A minor TWV 40:3 | |
| Quinto Maganini (1897-1974) | |
| L`Apres Midi d´une Crocodille | |
| Gisbert Näther (*1948) | |
| Duo for Tuba and Harp, Op. 120 | |
| Astor Piazzolla (1921-1992) | |
| Oblivion | |
| from the film "Enrico IV" (1984) | |
| André Caplet (1878-1925) | |
| Deux Divertissiments | |
| Jörg Duda | |
| Threnodie and Arabesque, Op. 73/3 | |
| Astor Piazzolla | |
| Nightclub | |
| from "Histoire du Tango" | |
| Jules Massenet (1842-1912) | |
| Méditation | |
| from the opera "Thais" | |
| | |
Works by J. Duda, G. Ph. Telemann, Q. Maganini, G. Näther, A. Piazzolla, A. Caplet and J. Massenet
Andreas Martin Hofmeir, Tuba
Andreas Mildner, Harp


In stock, shipping in 1-2 days.

We offer free shipping!

Please read our General Terms and Conditions and Privacy Statement carefully.


To the question "Why not: Tuba & Harp?" the only people who could react with incomprehension are hardcore sourpusses, Acid House fans from Lower Bavaria and chain-smokers plagued with heartburn from the Outer Hebrides. What instrumental combination would be better suited to awaken Maganini's Crocodile Lady or Massenet's Greek hetaera Thaďs with its curves? For Music Council prize winners Andreas Martin Hofmeir (tuba, "LaBrassBanda") and Andreas Mildner (harp), instrumental perfection and ideal ensemble playing are only the basic conditions for their second GENUIN CD. Sensitivity and humour characterise both of them, two of the most brilliant practitioners of their respective instruments. World Tuba Day is on the first Friday in May. Care to join us in the celebration?

Record Release Concert
On May 28, 2013 Andreas Martin Hofmeir (Tuba) and Andreas Mildner (Harp) gave a live performance on their new CD "Why not?" at the cosy Alte Wiede Fabrik in Munich. Here you can listen to excerpts from Jörg Duda´s Fantasia II, Op. 29/2, Jules Massenet´s Thais Méditation and Astor Piazzolla´s Nightclub 1960.