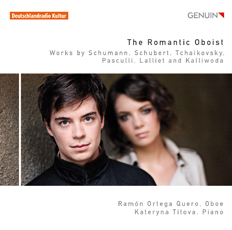 GEN 12254
EAN: 4260036252545
1.10.2012

| | |
| --- | --- |
| Robert Schumann (1810–1856) | |
| Fantasiestücke, Op. 73 | |
| Franz Schubert (1797–1828) | |
| Impromptus, Op. 90/3 D899 | |
| arranged for oboe and piano by R. Ortega Quero | |
| Pyotr Ilyich Tchaikovsky (1840–1893) | |
| Lensky´s Aria | |
| arranged for oboe and piano by R. Ortega Quero | |
| Antonio Pasculli (1842–1924) | |
| Fantasia sull´opera Poliuto | |
| Casimir-Théophile Lalliet (1837–1892) | |
| Fantasia on Themes by Chopin | |
| Robert Schumann | |
| Drei Romanzen, Op. 94 | |
| Johann Wenzel Kalliwoda (1801–1866) | |
| Morceau de Salon, Op. 228 | |
| | |
Works by Schumann, Schubert, Tchaikovsky, Pasculli, Lalliet and Kalliwoda
Ramón Ortega Quero, Oboe
Kateryna Titova, Piano


In stock, shipping in 1-2 days.

We offer free shipping!

Please read our General Terms and Conditions and Privacy Statement carefully.


The period of rebellion and liberation of the composer from his patrons – this is how the young oboist Ramσn Ortega Quero describes the 19th century in Europe. He has dedicated his second CD on GENUIN to romantic composers who suddenly revealed the most intimate emotions: Schumann, Schubert, Tchaikovsky, Pasculli, Lalliet and Kalliwoda. The solo oboist of the Bavarian Radio Symphony Orchestra has rummaged through the treasure chest of oboe literature, even enriching it with his own newly arranged versions of works by Schubert and Tchaikovsky. The Romantic Oboist – a true gem!