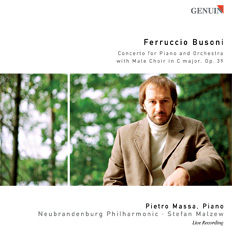 | | |
| --- | --- |
| Ferruccio Busoni (1866-1924) | |
| Concerto für Piano and Orchestra with Male Choir in C major, Op. 39 | |
| Prologo e Introito. Allegro, dolce e solenne | |
| Pezzo giocoso. Vivacemente, ma senza fretta | |
| Pezzo serioso Andante sostenuto, pensoso | |
| All'Italiana. Vivace | |
| Cantico. Largamente e piú moderato | |
| | |
Concerto for Piano and Orchestra with Male Choir in C major, Op. 39
Pietro Massa, Piano
Ernst Senff Chor Berlin
Stefan Malzew
Neubrandenburger Philharmonie
Philharmonischer Chor Neubrandenburg


In stock, shipping on January 8th.

We offer free shipping worldwide!
Please read our General Terms and Conditions and Privacy Statement carefully.


Pietro Massa's second disc with Genuin exudes a glowing, sparkling and effervescent pianistic beauty. Every measure of Ferruccio Busoni's monumental and rarely performed piano concerto is thrilling and a joy to listen to—from the Brahmsian, shining expansiveness of the opening movement all the way to the mystical transfiguration of the closing movement with male chorus. Massa, the Neubrandenburgische Philharmonie and conductor Stefan Malzew are deserving of the highest praise, not only for their electrifying and nuanced interpretation but also for the worthy deed of introducing a "forgotten" piano work to a wider audience. Turn the lights down in your living room, turn up the volume and relax—there is much to be relished here!

Live Recording at the Concert Church Neubrandenburg

"And it is fascinating to hear how this work grows in the hands of the Italian, how he struggles through the immense labyrinth of sound cascades of Wagnerian dimensions … a great work and one that is rarely recorded, making the great achievement of this recording all the more valuable."
(Piano News I/2009)

Review in French at ClassiqueInfo, 8.1.2010.