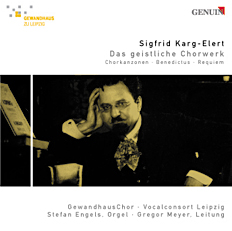 GEN 88130
EAN: 426003625
25.9.2008

| | |
| --- | --- |
| Sigfrid Karg-Elert (1877-1933) | |
| Vom Himmel hoch op. 82 Nr. 2 | |
| Kanzone für Sopran-Solo, gem. Chor, Violine und Orgel | |
| Sigfrid Karg-Elert (1877-1933) | |
| Passionskanzone für Sopran Solo, Chor, Oboe/Englischhorn oder Klarinette und Orgel op. 84 | |
| Vorspiel und Choral | |
| Rezitativ und Arioso | |
| Chor | |
| Sigfrid Karg-Elert (1877-1933) | |
| Wir danken Dir. Herr Jesu Christ, Werk ohne Opuszahl Nr.1 | |
| Motette für gem. Chor | |
| Sigfrid Karg-Elert (1877-1933) | |
| Sanctus für Violine und Orgel op. 48 Nr. 1 | |
| Sigfrid Karg-Elert (1877-1933) | |
| Benedictus für Soli, Chor, Violine, Harfe ad lib. und Orgel op. 82 Nr. 1 | |
| Sigfrid Karg-Elert (1877-1933) | |
| Requiem aeternam für gem. Chor op. 109 | |
| Sigfrid Karg-Elert (1877-1933) | |
| Dritte sinfonische Kanzone op. 85 Nr. 3 | |
| Fuge, Kanzone und Epilog für Violine, Orgel und 4 Frauenstimmen | |
| Sigfrid Karg-Elert (1877-1933) | |
| Näher, mein Gott. zu Dir | |
| Choral | |
| Sigfrid Karg-Elert (1877-1933) | |
| Näher, mein Gott. zu Dir op. 81 | |
| Kanzone Soli, gem. Chor, Flöte und Orgel | |
| | |
Sigfrid Karg-Elert (1877-1933)
Sacred works for choir


GewandhausChor
Vocalconsort Leipzig
Gregor Meyer, Director
Stefan Engels, Organ


In stock, shipping in 1-2 days.

We offer free shipping!

Please read our General Terms and Conditions and Privacy Statement carefully.



What does it mean to compose sacred music between Late Romanticism and the 20th century. The Leipzig composer, Sigfrid Karg-Elert, gave a highly original and complex answer that is well worth a closer listen. Deep pathos and individual, almost intimate feeling are closely intertwined in the style of his teacher Max Reger. In the highly Romantic tonal language of his Kanzone "Näher, mein Gott, zu Dir" ("Nearer, my God, to Thee"), the chorale said to have been played by the ship's band on the Titanic when it sank in 1912, Karg-Elert is likely to have worked through not only the death of his friend, one of the ship's musicians, but also a catastrophe emblematic of the modern age. The GewandhausChor and Vocalconsort Leipzig have recorded all of this with fine attention to detail and at the highest level of artistic quality. Where forceful expression, introspection and festive sound stand so closely side by side there is only one thing you can say – Hosanna!

Karg Elert Archive
"An outstanding recording from Leipzig!"
Read the review in the Newsletter of the Karg Elert Archive!