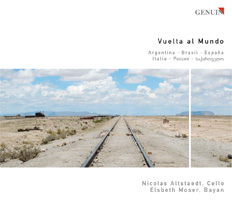 GEN 88109
EAN: 426003625
23.5.2008

| | |
| --- | --- |
| Astor Piazzolla | |
| Café 1930 | |
| Astor Piazzolla | |
| Tanti Anni Prima | |
| Astor Piazzolla | |
| Libertango | |
| Astor Piazzolla | |
| Oblivión | |
| Astor Piazzolla | |
| Le Grand Tango | |
| Heitor Villa-Lobos (1887-1959) | |
| from "Bachiana Brasileira" No. 5 | |
| Aria | |
| Manuel de Falla (1876-1946) | |
| from "Suite canciones populares espanolas" | |
| El pano moruno | |
| Manuel de Falla (1876-1946) | |
| from "Siete canciones populares espanolas" | |
| Nana | |
| Manuel de Falla (1876-1946) | |
| from "Suite canciones populares espanolas" | |
| Canción | |
| Polo | |
| Asturiana | |
| Jota | |
| Igor Strawinsky (1882-1971) | |
| Suite italienne | |
| Introduzione | |
| Serenata | |
| Aria | |
| Tarantella | |
| Minuetto e Finale | |
| Sulchan Zinzadse (1926-1991) | |
| from "Five Pieces for Cello & Piano" | |
| Sachidao | |
| | |
Vuelta al Mundo - a musical journey around the world
works by A. Piazzolla, H. Villa-Lobos, M. de Falla, I. Strawinsky und S. Zinzadse
Nicolas Altstaedt, Cello
Elsbeth Moser, Bayan


In stock, shipping in 1-2 days.

We offer free shipping!

Please read our General Terms and Conditions and Privacy Statement carefully.


They say flights are so inexpensive these days. And the railways outdo themselves with special offers… but: once around half the globe for under 20 Euros? You'll probably only get that from GENUIN. Nicolas Altstaedt (cello) and Elsbeth Moser (bayan – the Russian variant of the chromatic button-accordion) play until the listener becomes dizzy, allowing him to fly, dream, laugh and cry. They show him the dark corners of Astor Piazzolla's Buenos Aires, gaze with him into the endless Brazilian evening sky and carry him away with a wild Georgian folk dance. A different kind of world tour: put it on, turn it on and get ready for take off.

The young cellist Nicolas Altstaedt has made a magnificently wild CD. It contains, one can summarise, an unbelievable amount of music. (Recommended by Klassik.com)

Read the French review on Classique Info, 08.02.2009.