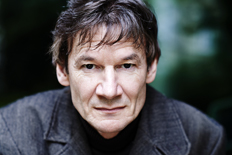 Michael Schäfer has a propensity for featuring unusual repertoire on his recordings and has been instrumental in surprising the descendants of forgotten composers with unexpected (ASCAP) royalty earnings.

In addition, he performs as a soloist, as a member of various chamber music groups, and as an accompanist on concert podiums throughout the world. Master classes in various countries and a professorship at the State Conservatory for Music in Munich allow him to pass his experience on to the next generation of musicians.

Michael Schäfer is a member of the Piano Trio Then-Bergh – Yang – Schäfer.

The Soul of Russia

A cycle of 25 masterpieces by Mussorgsky, Rachmaninoff, Rimsky-Korsakov, Scriabin, Tschaikovsky and others

Ilona Then-Bergh, Violin - Wen-Sinn Yang, Cello - Michael Schäfer, Piano

| | |
| --- | --- |
| GEN 21727 | |
Paolo Litta

Concert Trilogy: Der Minne-See, Die entschleierte Göttin, Der Tod als Fiedler

Ilona Then-Bergh, Violin - Michael Schäfer, Piano

| | |
| --- | --- |
| GEN 20690 | |
Leonid Sabaneev

The Complete Works for Piano Vol. 2

Michael Schäfer, Piano

| | |
| --- | --- |
| GEN 18612 | |
À la mémoire d`un grand artiste

Piano Trios by Tchaikovsky, Rachmaninoff and Goldenweiser

Michael Schäfer, Piano - Ilona Then-Bergh, Violin - Wen-Sinn Yang, Cello - Kang-Un Kim, Harmonium

| | |
| --- | --- |
| GEN 16437 | |
Leonid Sabaneev

The Complete Works for Piano Vol. 1

Michael Schäfer, Piano

| | |
| --- | --- |
| GEN 15380 | |
L'esprit français

Violin Sonatas by Florent Schmitt, Jan Ingenhoven and László Lajtha

Michael Schäfer, Piano - Ilona Then-Bergh, Violin

| | |
| --- | --- |
| GEN 14312 | |
Claude Delvincourt

Violin and Piano Works

Michael Schäfer, Piano - Ilona Then-Bergh, Violin

| | |
| --- | --- |
| GEN 13271 | |
FREE LISTENING: CD Sampler

10 Years GENUIN classics

Ramón Ortega Quero, Oboe - cello project - Eckart Runge, Jacques Ammon - Viviane Chassot, Accordion - Kit Armstrong, Piano - Andrej Bielow, violin - Adrian Brendel, cello - Amaryllis Quartett - Tobias Koch, Piano - Paul Badura-Skoda, Piano - Nicolas Altstaedt, Cello - José Gallardo, piano - Michael Schäfer, Piano - Toutes Suites - Camerata Musica Limburg - Dresdner Philharmonie - Michael Sanderling, Conductor

| | |
| --- | --- |
| FREE LISTENING | |
Jacques Charpentier

72 Études karnatiques pour piano

Michael Schäfer, Piano

| | |
| --- | --- |
| GEN 12257 | |
Leonid Sabaneev

Piano Trios

Michael Schäfer, Piano - Ilona Then-Bergh, Violin - Wen-Sinn Yang, Cello

| | |
| --- | --- |
| GEN 12236 | |
Grigorij Krein. Samuil Feinberg

Violin Sonatas

Michael Schäfer, Piano - Ilona Then-Bergh, Violin

| | |
| --- | --- |
| GEN 11203 | |
Vincent d'Indy (1851-1931)

Piano Works, Vol. 3

Michael Schäfer, Piano

| | |
| --- | --- |
| GEN 10178 | |
Sylvio Lazzari . Volkmar Andreae

The Complete Works for Violine and Piano

Ilona Then-Bergh, Violin - Michael Schäfer, Piano

| | |
| --- | --- |
| GEN 10167 | |
Ignaz Friedman

Piano Works

Michael Schäfer, Piano

| | |
| --- | --- |
| GEN 89149 | |
Ottorino Respighi

Complete Works for Violine and Piano, Vol. 3

Michael Schäfer, Piano - Ilona Then-Bergh, Violin

| | |
| --- | --- |
| GEN 89116 | |
Vincent d' Indy

Piano Works Vol. II

Michael Schäfer, Piano

| | |
| --- | --- |
| GEN 87101 | |
Ottorino Respighi: The Complete Works for Violin and Piano Vol. II

Nine Arrangements of Italian Baroque Violin Sonates 1-6

Michael Schäfer, Piano - Ilona Then-Bergh, Violin

| | |
| --- | --- |
| GEN 87094 | |
Vincent d'Indy

Piano Works, Vol. I

Michael Schäfer, Piano

| | |
| --- | --- |
| GEN 87083 | |
Ottorino Respighi

The Complete Works for Violin and Piano

Ilona Then-Bergh, Violin - Michael Schäfer, Piano

| | |
| --- | --- |
| GEN 86063 | |
Cyril Scott

The Complete Sonatas and Other Works for Piano

Michael Schäfer, Piano

| | |
| --- | --- |
| GEN 85049 | |