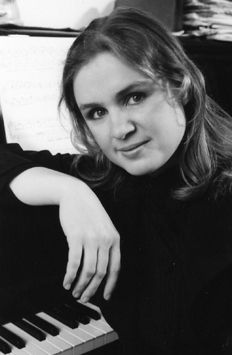 The pianist Julia Dahlkvist (formerly Mustonen) is gaining a reputation as one of the exciting pianists in Scandinavia. Among a number of prizes in international competitions, she is the winner of Nordic International Piano Competition in 2004 where she was awarded with a Blüthner Grand Piano. During the years 2006-2008 she performed the complete piano repertoire of Claude Debussy on tours in the Nordic countries. Since 2011 she is part of the piano faculty of Karlstad University, Ingesund College of Music.

Julia Dahlkvist is a concert pianist with diverse background. Born in a Finnish-Russian family in Sibiria, she started to play the piano at the age of three under the guidance of her mother, Lidia Mustonen. She has studied several years at the Sibelius Academy in Helsinki, Staatliche Hochschule für Musik in Freiburg, Hochschule der Künste in Berlin, Royal Academy in Dublin as well as at the Stockholm College of Music and Danish Royal Academy of Music in Copenhagen. Her teachers have been Erik T. Tawaststjerna, Vitali Berzon, John O'Conor, Alicia de Larrocha, Staffan Scheja and Niklas Sivelöv.

The young pianist started to give regular concerts at a very early age and has since performed extensively in Russia, Central Europe and Scandinavia. She has also performed as a soloist with numerous orchestras and appeared in various music festivals, charity concerts, on TV and on the radio. In the year 2001 she performed the Russian debut of Einar Englund´s Piano Concerto No. 1 with the Krasnoyarsk Philharmonic Orchestra. In year 2006-2008 she performed the complete works by Claude Debussy several times in Finland, Sweden and Denmark. In April 2009 she made her debut in Stockholm playing Rachmaninov 1st Piano Concerto together with the Stockholm Philharmonic Orchestra.

She has been awarded many times, in Finland by: Kordelini Foundation (2002 and 2006), Jenny & Antti Wihuri Foundation (2001 and 2003) and Culture Foundation (2005 and 2010) as well as the Finnish Performing Music Promotion Centre (2006). She war awarded by the Swedish Music Academy, the Anders Wall Foundation and the Freemasons Loge in Stockholm.
The Artist's Homepage:
http://juliadahlkvist.com/

Hommage ŕ Debussy - Special Editon

Works for Piano - 4 CD Box

Julia Dahlkvist, Piano - Chenyin Li, Piano - Juliana Steinbach, Piano - Amir Tebenikhin, Piano

| | |
| --- | --- |
| 4-CD-Box GEN 12230 | |
Hommage ŕ Debussy CD IV

Works for Piano: Childrens Corner, Études Série I & II et al.

Julia Dahlkvist, Piano

| | |
| --- | --- |
| GEN 12229 | |